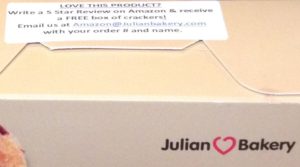 The Julian Bakery has recently released two new products on the heels of their four recent epic paleo faileos which include Paleo Protein Bars, Paleo Almond Bread, Paleo Coconut Bread, and their original Paleo Almond Thin Crackers. The new products are now available on Amazon Paleo Thin Crackers and a Do It Yourself Paleo Bread Mix.
There were two reviewers who put their Julian Bakery order #'s in their 5 Star Reviews and I found this very strange. Marie Boromei was the very 1st reviewer and the 2nd one was deleted but after lots of detective work I found it along with my 2nd comment. Missing Verified Purchase Review I sure as hell would like to know how Heath Squier had a bonafide Verified Purchaser's review deleted. I made a comment under Marie's review (See Below), asking her a question and the dope spilled the beans and actually answered saying: "because there was a sticker on chips that said if I put it on review I would receive a FREE box of the crackers!" Now I have no idea how Brad T. made it to Amazon to make his comment as he had not made a review of the product and it is my best guess that he was directed by Julian Bakery to make it. We apparently have a lot or "former" diabetics running around.
For Further reading regarding The Corruption Of The Amazon Review System Please See: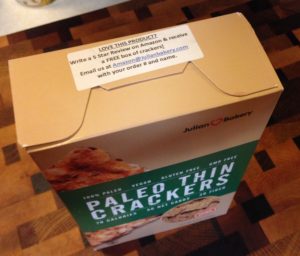 Based on the two reviewers who put their order #'s in their reviews I ordered the crackers through Amazon for myself. Well, low & behold my box of crackers has that same little sticker and whadda ya know. This is in direct violation of Amazon seller policies and the Julian Bakery had to sign those papers. The big Q?: What will Amazon do? Amazon has been caught with their pants down so many times and seem unable to keep up with the corruption within their system.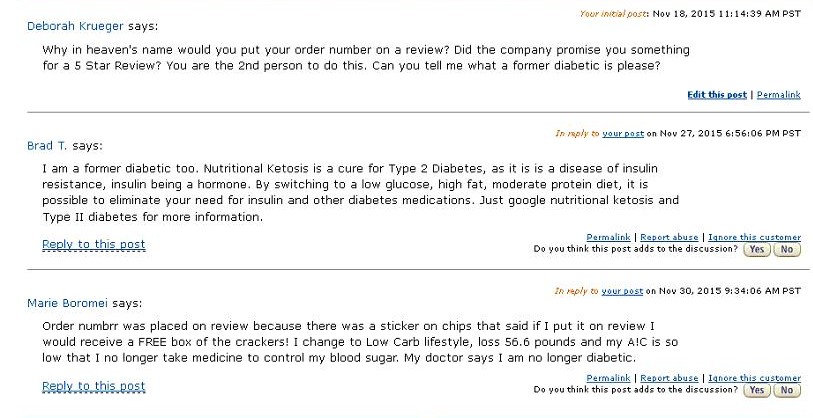 Without a little sticker directing them what to do, these two bread mix reviewers have no idea what they are doing and there are virtually no reviews but The Julian Bakery comments are priceless. Heath Squier must be beside himself wondering why he didn't put a sticker on the bread mix too and I bet he will begin as he also sells from his own site. We will know when the 5 Star Reviews begin to pile up. Gail? She must be talking about their Pancake Mix.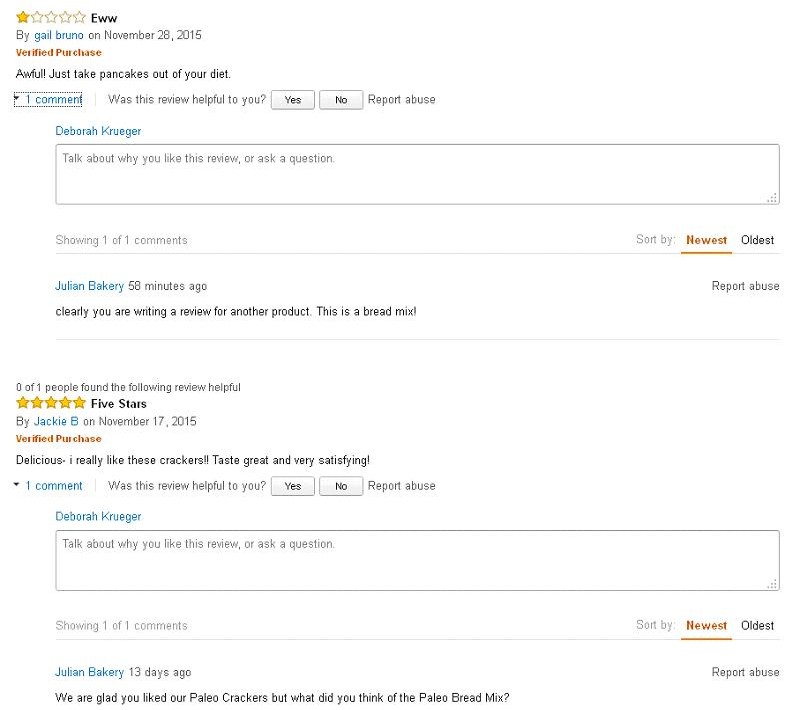 I filed a very Detailed Complaint Letter With Amazon to jeff@amazon.com and if anyone else gets one of those little stickers on their crackers? I might suggest instead of FREE crackers you write a complaint to Jeff Bezos and then give an honest opinion of the crackers because they are seriously horrible, the crummy cellophane wrapping had a hole in it, the crackers were crushed and crumbs fell all over the counter when I opened them. Another Julian Bakery Paleo Faileo and I hope Heath Squier poops his pants when he sees this because I am going to keep working with Amazon until they get rid of him.
This was the end of the post as of yesterday and this is today. I am here to let you know that one little old woman can make a difference. Obviously the email to Jeff Bezos got some pretty swift action. The item is now under review and is Currently Unavailable and what do you know.
Three Days Later, all is well, and the crackers are for sale again on Amazon. What does this tell us?…That Amazon is knowingly selling the crackers with the stickers still on them. As I know it, it would be impossible for Julian Bakery to replace their stocks of crackers in three days all over the country in all the Amazon fulfillment centers.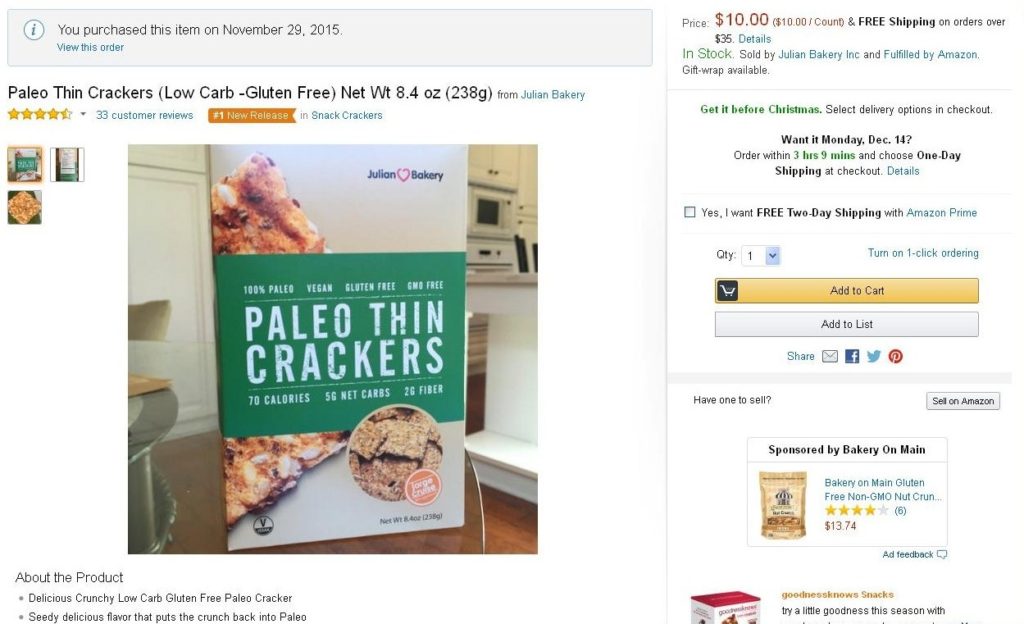 It is indeed a sad day.
Ronald Reagan famously said, "Trust but Verify". At the signing of the INF Treaty, his counterpart Mikhail Gorbachev responded: "you repeat that at every meeting," to which Reagan answered: "I like it"…I like it too.