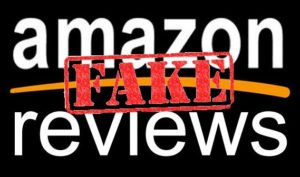 Have you ever purchased anything from Amazon? This article is for you even if you are one of the few who have not. Amazon has allowed fake reviewing to continue for many years because the bottom line is: People read them, perhaps buy a product, thus lining the pockets of Jeff Bezos.
If you think for one minute Amazon couldn't stop this you are wrong. There are many algorithms that could catch fake reviews before they ever were to go up. Think about it, if I can so easily find them don't you think Amazon can? At one time, several months back, Amazon made a big to-do about all this by filing a lawsuit against a website that sponsored fake reviewers. I don't have a clue how this suit is going, it will probably last for many years, the website is still up, and meanwhile, Amazon has not begun to address the problem as indicated below. You have to ask yourself; is Amazon really serious about all this? My answer is an unqualified NO. I am not the first person to say this but it is always prudent to follow the money $$$$$.
For Further reading regarding The Corruption Of The Amazon Review System Please See:
Introducing Jesse M. TOP 500 REVIEWER a FAKE REVIEWER of the nth degree with 1237 Amazon Reviews in less than 10 months. Apparently he is so prolific, Amazon has bestowed him with the status badge of TOP 500 REVIEWER. What are the qualifications for these badges? Why to identify Amazon's best reviewers of course. Are you kidding me? Fake Reviewers get top billing from Amazon for their numbers of fake reviews? I began tracking Julian Bakery over 6 months ago while they were purchasing fake reviews with abandon and this reviewer was paid for 7 Julian Bakery product reviews. Considering many of the 1237 products reviewed it would probably have cost somewhere near and possibly well over $50,000.00. He made 13 reviews July 21st, 12 reviews July 15th, 11 reviews July 11th, 17 reviews July 6th, 35 reviews July 5th, and are you ready?-A Whopping 71 reviews on June 30th etc. ad nauseum. How many reviews can you make for different no-bark dog collars, exercise machines, trampolines, earbuds, IPhone cases, to say nothing of the books? He has reviewed dildos, something called a "Semen Voluminizer" and enough pills to make even BigPharma jealous. Multiple music instruments, mattresses & beds and for some reason all these Fake Reviewers seem to like a book called Sex, Drugs & Islam. A dog bed for every room in a mansion the size of a castle although he says he just recently moved into an apartment from his long time dorm room. He morphs into a woman, he's skinny, sexy, chubby, 83 yrs. old, weighs 163 and whatever else you want in your fake reviewer. If you catch the last review he says "Hard to trust anyone especially on the internet…" If Amazon gets rid of "Jesse M" I am ready with another and another… Oh yeah, did I mention he owns his own little cupcake shop too?
This not only affects people in the United States, it affects people worldwide as Amazon is a global company.
A shot of his Julian Bakery Paleo Protein Bars review showing his TOP 500 REVIEWER Status:

Here are three Amazon sponsored Julian Bakery products analyzed at FakeSpot.
Ronald Reagan famously said, "Trust but Verify". At the signing of the INF Treaty, his conterpart Mikhail Gorbachev responded: "you repeat that at every meeting," to which Reagan answered: "I like it"…I like it too.