Oh yeah, you read it right and I have ample proof below. Do you think Amazon cares? NO, NO, and HELL NO. Amazon is the company that allows a seller to "HIDE" any review they deem detrimental and which brings down averages. This is now not about Julian Bakery poisoning diabetics, this is about poisoning the whole of the Amazon Review system. There is at least one Amazon "Vine Voice Reviewer" Linda R. Hendrex "Rubicon"VINE VOICE that believes it is impossible to delete a review and technically she is right but only technically. What's the difference between deleting, hiding or removing a review so that the public cannot make an intelligent buying decision based on ALL a seller's product reviews? I am here to let her know that her beloved Amazon not only doesn't care but lets it go unchecked after having been notified about it by multiple people, including yours truly.
Linda says: "However, they [An Amazon Seller] cannot remove reviews or comments on Amazon and I will be surprised if your comment on my Julian review disappears. I have been an Amazon Vine Voice for several years and even I cannot get Amazon to remove a review that I regret writing – and I am the author!"
I do not expect anyone to go back and look at pages and pages of reviews to verify all this but I am making it easy for you. As you look at the screenshots each hidden reviewers names is quite visible. As you read their reviews and if you were to go to Amazon via the dates shown they are gone. I wonder if these reviewers will ever know they have been hidden. WOW & thank goodness for screenshots. Click on any picture to clearly read it. The products being reviewed are the 12 Pack Julian Bakery Paleo Protein Bars and they later began doing the same thing with their 6 (7) Packs. It never ceases to amaze me how creative and funny people can be. These are by far not all of the reviews Health Squier has hidden, I have proof of more but I would say this is a pretty good start. You know what they say: Seeing is believing and a screenshot is worth 1,000 words and lest Heath Squier can somehow 'magically add back the deleted (hidden) reviews' I have also taken the appropriate screenshots to show many of them missing as of July 16th, 2015.
Julian Bakery continues cheating consumers and there is no (ZERO) integrity in the Amazon Review System. It does not matter if a reviewer has a 5 Star "Verified Purchase" or not. Julian Bakery has proven it. They began hiding reviews on January 9th one review was written on July 17th, was "hidden" as I was writing and the most recent after the post went up. Apparently Julian Bakery felt it advantageous to hide (16) mostly FAKE 5 star reviews in order to hide (34) l star reviews. At the very bottom, if you get there, the last shot shows a 53% negative to 26% positive review ratio and I can't blame them for not liking it but hey, that's what happens when you begin lying and cheating. I wonder what the real ratio would be if not for his paid fake reviews because yes, he has bought hundreds of them and I have proof of that too.
For Further reading regarding The Corruption Of The Amazon Review System Please See:
The bottom line: Whether you use the words "deleted" or "hidden" or "removed" the result is all the same. The buying public cannot read the review. These are the "hidden" reviews you will never see anywhere else but in this Post. Why do these reviews continue to show up on a hidden page at Amazon?























































These are the "hidden" reviews you will never see anywhere else but in this Post.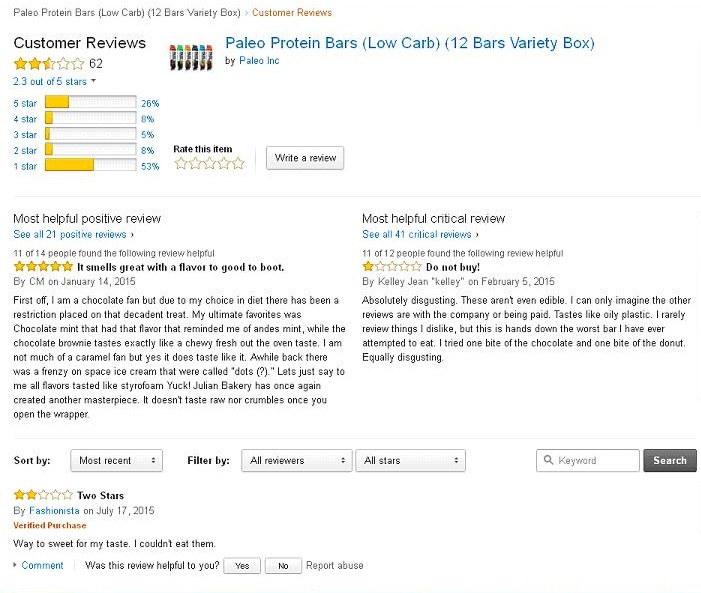 Ronald Reagan famously said, "Trust but Verify". At the signing of the INF Treaty, his counterpart Mikhail Gorbachev responded: "you repeat that at every meeting," to which Reagan answered: "I like it"…I like it too.