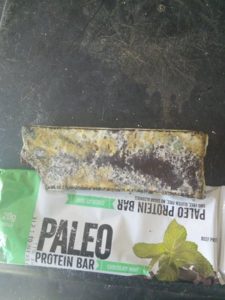 As stated elsewhere, I have a Google alert for the Julian Bakery and once in awhile something juicy comes to my inbox. This was one of those times. Here is Victoria's Julian Bakery Paleo Protein Bars: A Review Fast forward a couple of days after Victoria's review and as if by magic a new "View Lab Results" appeared on the Julian Bakery site as 230 calories which leads me to believe they have taken some original letterhead from some Canadian Testing Laboratory and put their own nutritional label on it. This would be so ILLEGAL. I can tell you from experience it is totally impossible to get a product tested (again) and have results back in two days and there is no way in HELL any testing laboratory would put this statement on its lab report: Net Carbs=Total Carbs –Fibre –Sugar Alcohols Total Dietary Fiber = includes IMO Fiber. According to the Julian Bakery web page this product does not even have any sugar alcohols listed. Chocolate Mint Paleo Protein Bars. There is no receiving date of this product, no results date, and this is definitely not like any lab results I have ever seen and I have seen many of them. I want to reiterate these are not Lab Results. It is (I believe) a fictitious and totally made up "new" nutritional label. I think what we are seeing here is the total breakdown of the Julian Bakery and their web of lies and deceit.
Here is Victoria's follow-up three days later Oh, This Means War and the Julian Bakery email responses are priceless. Julian's Bakery: Worst Customer Service! Her last words are: On that note …buyer beware!
Ronald Reagan famously said, "Trust but Verify". At the signing of the INF Treaty, his counterpart Mikhail Gorbachev responded: "you repeat that at every meeting," to which Reagan answered: "I like it"…I like it too.