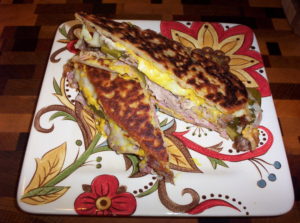 Low Carb Cubano Sandwich. The first time I ever tasted a Cubano Sandwich was in the basement of some vast hotel in Las Vegas. It was very late at night and probably anything would have tasted good but I was hooked at first bite. It is a very simple sandwich and for some reason as I subsequently ordered them from time to time they were never as good as that first one. Of course I gave up sandwiches pretty much for good over 7 years ago but sometimes a girl wants what a girl wants so I have now devised my own way of fixing this iconic sandwich. Cuban food in and of itself is not very spicy and when looking at any Cuban menu you might think that it is. So what follows is my low carb version. As you look at the few ingredients of this recipe it is kinda hard to believe it could tasted as good as it does but for whatever reason the flavors are perfect together. I think the secret to mine is using pulled pork because the juices get all oozy goozy with the cheese. The tradition is to use Cuban bread and weight & flatten it but we are not going to use Cuban bread. My version is between two pieces of Naan Flat Bread which is already cooked so all you need do is heat and melt the cheese. Once you have made Naan you may find quite a lot of uses for it. If you wish to make this open-faced then you can deduct 6.4g carbs and 220 calories.
For a list of products you may not be familiar with and used on this site, please read Low Carb Pantry Essentials. I am NOT sponsor-compensated for recommending a product that I use*** And here, in one tidy package, are over 550 Keto~Paleo~Low Carb~Diabetic Chef's Recipes
As I am a Type II diabetic, all recipes on this website are low carb and diabetic friendly.
Cubano Sandwich
2015-01-31 04:58:22
Ingredients
2 Pieces Naan Flatbread
2 Oz Pulled Pork
2 Oz Good Dry Shaved Ham
2 Oz Very Thinly Sliced Swiss Cheese (I Use Gruyere)
2-3 Pieces Thinly Sliced Dill Pickle (Or To Cover)
2 t Butter
Yellow Mustard
Instructions
Put a skillet on medium-low & melt 1 t butter.
Put 2 pieces of Naan on counter and slather with mustard.
Lay on pork, cheese, pickles, & ham.
Spread 1 t butter on top piece of Naan.
Place sandwich into butter, cover and heat until cheese begins to melt, carefully turn, re-cover and heat until cheese is completely melted and gooey.
Slice on the bias and serve it up baby.
851 Calories, 31.2g Fat, 51.8g Protein, 28.5g Carbs, 15.0g Fiber, 13.5g Net Carbs
Notes
Since Naan flatbread is already flat (duh) this does not need to be pressed like a customary Cubano.
You may think 13.5g net carbs a bit high and I say, if compared to a traditional Cubano sandwich at between 60g-80g carbs and remembering you are having a real sandwich-this is very low carb. It is also a pretty good size sandwich and can easily be split with a friend or spouse.
I eat ½ of one of these every once in a while and they don't do much to my blood sugar so please make you own decision and since I DO NOT count calories I could care less about them.
Low Carb Scams https://low-carb-scams.com/