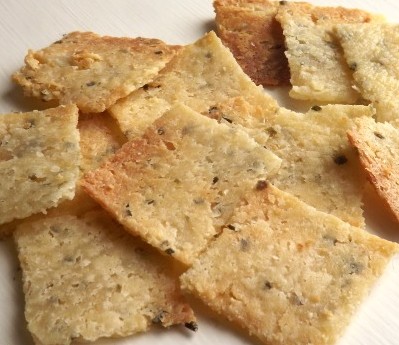 These Low Carb Sour Cream Chive Crackers will make your kitchen smell heavenly and your family will thank you. Serve with Ham Salad, Roast Beef Spread, Chicken Liver Pate. They are particularly good with Caramelized Onion Dip or just about whatever other appetizer you wish. Be careful if you are just eating them plain as they can easily get away from you.
For a list of products you may not be familiar with and used on this site, please read Low Carb Pantry Essentials. I am NOT sponsor-compensated for recommending a product that I use*** And here, in one tidy package, are over 550 Keto~Paleo~Low Carb~Diabetic Chef's Recipes
As I am a Type II diabetic, all recipes on this website are low carb and diabetic friendly.
Sour Cream & Chive Crackers
2014-05-28 07:28:26
Ingredients
2 C Almond Flour
2 T Dried Crushed Chives
½ C Sour Cream
1 t Salt (Or To Taste)
½ t Onion Powder
Instructions
Preheat oven to 215°.
In a medium bowl, mix all the ingredients by hand. Knead for a half minute or until smooth and rest for 10 minutes.
If you have a Silpat-terrific. Place the dough in a rectangle on the Silpat and cover with parchment paper.
Using a rolling pin and starting at the center roll once toward you, once away from you, turn 90 degrees and repeat. Now just roll evenly until Silpat is covered. Don't worry about what goes off the Silpat-just trim it and put on any bare spots.
Gently peel the top parchment paper and trim all overhang.
Score dough with a pizza cutter. (I use my bench scraper since you definitely do not want to cut the Silpat).
Pick up the Silpat and place on an inverted sheet pan.
Put in the oven and bake for 1½ -2 hours or until very gentle brown begins to appear.
Cool completely and break at scores.
48 Crackers
31 Calories, 1.1g Protein, 2.5g Fat, 1.1g Carbs, .5g Fiber, .6g Net Carbs
Low Carb Scams https://low-carb-scams.com/