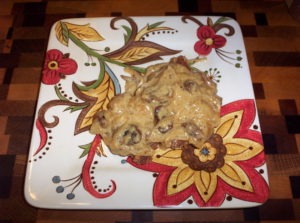 Low Carb Crispy Chicken Under Onion Shroom Cream. No white meat here but instead crispy thigh meat and it's a match made in heaven. We are going to combine some of the recipes found on this site, add a few ingredients and oh well, you'll see. Not sure about all of you out there but for me I can get tired making some of the old recipes month after month and then year after year. I like to mix things up making different tastes and this is one of those mix-mash-ups. My gravies never have flour in them and they are pretty much very high fat as I use reduced 40% heavy cream.
You will need the recipe for Crunchy Deep Fried Chicken Chips and then we'll make the gravy. You can mix up the mushrooms you use and at least for me, and because I have them and grind my own dust, I will be adding porcinis as dust.
As I am a Type II diabetic, all recipes on this website are low carb and diabetic friendly.
Crispy Chicken Under Onion Mushroom Cream
2016-06-27 06:38:39
Ingredients
1 Recipe Crunchy Deep Fried Chicken Chips
1 Large Slivered Onion
1 T Butter
1 T Olive Oil
½ Lb Mushrooms
2 T Butter
2 T Olive Oil
2 C Heavy Cream
2 t Chicken Base
1½ t Porcini Dust
1 t Pepper
Instructions
Slowly caramelize onions in butter/oil mix. Remove and set aside.
Sauté mushrooms in butter/oil mix. Remove and set aside.
Add rest of ingredients reducing cream slightly, add back onions, mushrooms and heat.
Top chicken chips.
6 Servings
919 Calories, 44.6g Fat, 40.6g Protein, 5.8g Carbs, .7g Fiber, 5.1g Net Carbs
Notes
Nutritionals include the chicken chips.
Want a more herby sauce? Add the ones you like.
Want wine? Add it.
Like bacon? Crumble some in.
Rather have the sauce with pork? Go for it.
Rather have the sauce on a steak? Use a steak.
Your kids like meatballs? Yep, great with meatballs too.
Low Carb Scams https://low-carb-scams.com/