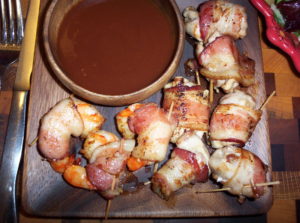 Low Carb Smoky Sweet And Sour Dipping Sauce. Who couldn't love this dipping sauce to dab meaty snacks into? Well, I do do and this is perfect for any game day and ideal for chicken wings, Bacon Wrapped Shrimp or bacon wrapped chicken bites. Pictured is the sauce with both and since I had some leftover, I had it with Pulled Pork a couple nights later. Served with Coleslaw or one of the many other Salad Recipes on this site & it's dinner done. Don't you just love my new acacia wood bowl.
For a list of products you may not be familiar with and used on this site, please read Low Carb Pantry Essentials. I am NOT sponsor-compensated for recommending a product that I use*** And here, in one tidy package, are over 550 Keto~Paleo~Low Carb~Diabetic Chef's Recipes
As I am a Type II diabetic, all recipes on this website are low carb and diabetic friendly.
Smoky Sweet & Sour Dipping Sauce
2016-01-29 09:25:01
Ingredients
½ C Sugar Free Ketchup***
½ C White Vinegar
2 T Just Like Sugar Brown***
1 T+1 t Worcestershire Sauce
½ t Liquid Smoke
Instructions
Mix all ingredients thoroughly, heat & serve.
6 Servings
20 Calories, 0.0g Protein, 2.0g Fat, 0.5g Carbs, 0.0g Fiber, 0.5g Net Carbs
Notes
This sauce is just about as free a food as you could want.
Low Carb Scams https://low-carb-scams.com/