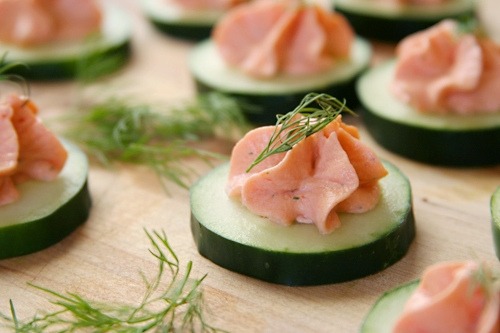 Low Carb Smoked Salmon Mousse. Serve this low carb smoked salmon mousse with a Crudités, Hazelnut Crackers or Sour Cream & Chive Crackers and as you can see one of the easiest ways is on cucumber coins. Put your vegetables on a platter with it a pretty bowl in the center and let people scoop it for themselves.
For a list of products you may not be familiar with and used on this site, please read Low Carb Pantry Essentials. I am NOT sponsor-compensated for recommending a product that I use*** And here, in one tidy package, are over 550 Keto~Paleo~Low Carb~Diabetic Chef's Recipes
As I am a Type II diabetic, all recipes on this website are low carb and diabetic friendly.
Smoked Salmon Mousse
2013-08-30 10:08:25
Ingredients
Ingredients
8 Oz Cream Cheese
1 T Lemon Juice
2 t Dill Weed Dried
¼ t Salt
¼ t Pepper
¼ Pd Smoked Salmon
2 t Liquid Smoke
¼ C Heavy Cream
Instructions
Put first 8 ingredients in a processor and mix until smooth.
Add heavy cream and pulse to completely incorporate.
Taste and correct any seasonings.
Chill and serve.
18 Servings
Serving Size 1 T
75 Calories, 3.3g Protein, 6.5g Fat, .5 Carbs. 0 Fiber, .5 Net Carbs
Low Carb Scams https://low-carb-scams.com/