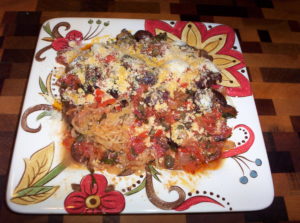 Low Carb Puttanesca Sauce. While the word Puttanesca Sauce may or may not have some rather dubious origins, which you can look up if you wish, the bottom line is: It should be quite robust and flavorful and as you look at the list of ingredients you might imagine this to be true. It is extremely pungent and is said to have drawn men in off the streets. So use a little imagination here.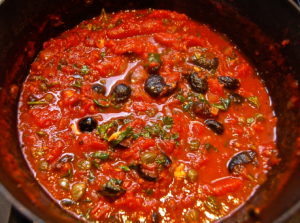 There are so many ways to use puttanesca sauce and here are just a few suggestions: Obviously over spaghetti squash, with nicely sautéed chicken, or with any numbers of different fish. If you opt to use it over spaghetti squash it will serve four and will also serve four with a double recipe of Spaetzle noodles. If used with chicken or fish you should get 6-8 servings and I have listed nutritionals for all. If you decide to use with fish you can serve a large wedge of lemon along side.
For a list of products you may not be familiar with and used on this site, please read Low Carb Pantry Essentials. I am NOT sponsor-compensated for recommending a product that I use*** And here, in one tidy package, are over 550 Keto~Paleo~Low Carb~Diabetic Chef's Recipes
As I am a Type II diabetic, all recipes on this website are low carb and diabetic friendly.
Puttanesca Sauce
2015-09-07 08:02:28
Ingredients
2 T Olive Oil
1 Medium Yellow Onion Small Chopped
One Can Anchovies Packed In Oil
2 T Crushed Garlic
2 T Tomato Paste
2 16 Oz Cans Diced Or Crushed Tomatoes
¼ C Drained Capers
½ C Rough Chopped Kalamata Olives
½ t Crushed Red Peppers Flakes
2 T Fresh Chopped Basil
Parmesan Cheese (Omit For Paleo)
Salt & Pepper To Taste
Instructions
Put olive oil in a sauce pan over medium heat, add onions, stir occasionally, and cook until soft.
Add anchovies & garlic cooking and stirring until the anchovies disintegrate.
Stir in tomato paste, add the tomatoes, capers, olives & red pepper flakes.
Cover pan, turn down heat, simmer gently, and cook, stirring occasionally, until thick and saucy.
Blend in basil, taste, and adjust flavors to your liking.
Serve over whatever you choose. I almost always choose spaghetti squash and now I also use mung bean sprouts.
4 Servings
189 Calories, 7.5g Protein, 12.5g Fat 11.6g Carbs, 2.3g Fiber, 9.3g Net Carbs
6 Servings
126 Calories, 5.0g Protein, 8.4g Fat, 7.7g Carbs, 1.5g Fiber, 6.2g Net Carbs
8 Servings
95 Calories, 3.8g Protein, 6.3g Fat, 5.8g Carbs, 1.4 g Fiber, 4.4g Net Carbs
Notes
Be sure to taste first before adding any salt & pepper.
Low Carb Scams https://low-carb-scams.com/