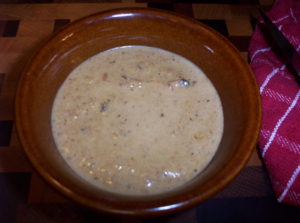 Low Carb Primal Keto Gravy. Man there must be a story here somewhere and this Primal Keto Gravy has been changed so many times I feel I have traveled with Lewis & Clark along the Columbia River to the Pacific Ocean to get to it and…change it…yet again.
So here's the story. The recipe started with the Herb Gravy Recipe at Elana's Pantry. From there it was adapted by Nom Nom Paleo who made her own Easy Paleo Herb Gravy Recipe. Then Martina adapted it into her Ultimate Keto Gravy and lastly…it was tweeted by Dr. Robert Milello where I got it. So, it has been an epic journey and you have now arrived at the Pacific Ocean with Lewis & Clark (and me). The gravy sounded so good I thought I could adapt it one more time to make it my own and here you go with Primal Keto Gravy.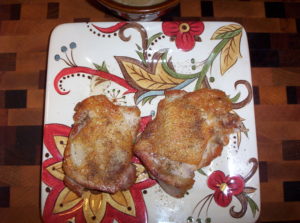 If you are at all handy with a knife (and I am) boning chicken thighs but leaving the skin on is really good with this gravy, the skin gets so crispy and…it saves a lot of $$$ as boneless skinless thighs are far more expensive and…you don't get the skin. This is fabulous with baked chicken and of course turkey.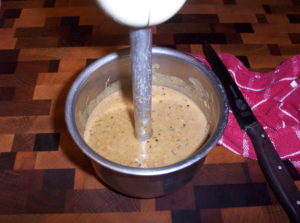 Most everything I have is antique. The blender & brown bowl were my moms probably from the 50's & 60's and a gravy ladle (not shown) that was my grandmother's and would easily be 100 years old. I am such an antique.
For a list of products you may not be familiar with and used on this site, please read Low Carb Pantry Essentials. I am NOT sponsor-compensated for recommending a product that I use*** And here, in one tidy package, are over 550 Keto~Paleo~Low Carb~Diabetic Chef's Recipes
As I am a Type II diabetic, all recipes on this website are low carb and diabetic friendly.
Primal Keto Gravy
2015-11-20 15:30:35
Ingredients
2 T Olive Oil (Or Butter)
1 Small To Medium Onion
¼ C Minced Celery
2 t Crushed Garlic (Optional But Good)
1 T Dijon Mustard
2 t Poultry Seasoning (Sage, Thyme, Marjoram, Rosemary)
2 T Lemon Juice (Optional)
¼ Lb Sautéed Mushrooms
1 T Porcini Dust
1¾ C Water
1 T Chicken Base
¼ C Heavy Cream
Pepper To Taste
All The Fabulous Fat Drippings & Fond* From Your Roasted Chicken
Instructions
Add onions to olive oil and slowly caramelize.
Add all ingredients (excluding heavy cream) and reduce slowly as you want the celery to soften. Just remember if you reduce too much you can always add more water but it's easier not to go overboard in the first place.
Add heavy cream and reduce to desired consistency, remembering as you blend it, it will thicken even more.
Pour in a large enough bowl, add drippings and on medium- low begin to blend with a stick blender until you get to desired texture. I like mine a bit chunky.
Add pepper to taste.
Plate whatever fowl you are using and spoon sauce over all.
6 Servings
125 Calories, .6g Protein, 12.4g Fat, 2.8g Carbs, .5g Fiber, 2.3g Net Carbs
8 Servings
93 Calories, .5g Protein, 9.2g Fat, 2.1g Carbs, .4g Fiber, 1.7g Net Carbs
Notes
If you taste this before the fond & fat are added it will taste OK but remember it has virtually no fat in it and fat is what make things taste good so taste test after the addition of the fat.
*Fond (fahn) is that fabulous concentrated flavor in the little cruddy buttons at the bottom of a pan that is normally incorporated by deglazing.
If you have frozen pulled chicken this is fabulous mixed into it.
This also makes a tasty breakfast over fried eggs.
Lastly, serve this proudly over a spatchcocked roasted chicken or your Thanksgiving turkey.
Nutritionals are for gravy with the addition of 2 T extra fat & fond. Extra fat will only increase the calories a little and who cares.
Low Carb Scams https://low-carb-scams.com/