Low Carb Peanut Butter Cake-Peanut Butter Icing. For LCHF followers this is about as good, healthy, and tasty as it gets. Me? I could eat peanut butter all day long…by the spoonful…so I have to be careful.
This is a very dense, moist cake and not too dis-similar from a brownie which I hope you can see from the picture.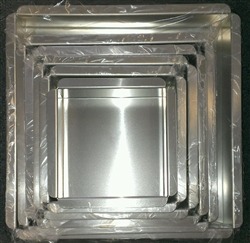 This is another reminder that if you are going to bake (anything) it would be a very good idea to have professional baking pans. Magic Line Pans are the best quality available, they come in about every size & shape you would ever need and…they are actually made here in the USA. There is even a complete size set of square pans (6",7",8",9",10" and 12") and with these pans you will have what you need (and more) to make the recipes on this site. Since there are only two of us I often enough make ½ a recipe, use the 6"x6" pan and cut into 8-10 pieces. I think because I promote this set of pans several places on this site they keep selling out of them so if you don't see the 6 pan combo call 309-747-2125 and they will make one for you.
For a list of products you may not be familiar with and used on this site, please read Low Carb Pantry Essentials. I am NOT sponsor-compensated for recommending a product that I use*** And here, in one tidy package, are over 550 Keto~Paleo~Low Carb~Diabetic Chef's Recipes
As I am a Type II diabetic, all recipes on this website are low carb and diabetic friendly.
Peanut Butter Cake/Peanut Butter Icing
2014-06-20 13:22:40
Cake
2½ C Almond Meal
½ C Arrowroot
1 T+1 t Baking Powder
1 C Melted Butter
½ C Just Like Sugar Brown***
½ C Sugar Free Maple Syrup***
¾ C Peanut Butter (I Use Freshly Ground Smooth)
4 Eggs
¼ C Heavy Cream
¼ C Sour Cream
1 T Vanilla Extract
8 Drops Liquid Sucralose
Icing
3 Oz Cream Cheese
½ C Peanut Butter
¼ C Heavy Cream
¼ C Just Like Sugar Brown
4 Drops Liquid Sucralose
1 t Vanilla Extract
2 T Softened Butter
Instructions
Preheat the oven to 350 degrees.
Lightly butter a 10"x10" square baking dish.
Mix first 3 dry ingredients.
Beat butter, Sucralose, & maple syrup (or sugar free simple syrup).
Add the eggs one at a time, then add vanilla & sour cream.
Mix in Just Like Sugar Brown.
Add peanut butter and finally, heavy cream.
Add wet ingredients to dry and mix thoroughly.
Pour the batter into the pan and smooth the batter until it is evenly spread.
Bake for 25-30 minutes or until a toothpick comes out clean when tested. When it slightly browns on top it should be done.
While the cake is baking, beat all icing ingredients until smooth.
Remove the cake from the oven and cool completely.
Frost and slice into 20 pieces.
20 Servings
335 Calories, 8.9g Protein, 28.7g Fat, 9.9g Carbs, 2.6g Fiber, 7.3g Net Carbs
Notes
This cake is ridiculously rich and as they say, will stick to the roof of your mouth like well, peanut butter.
Low Carb Scams https://low-carb-scams.com/