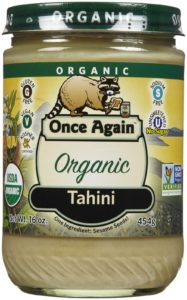 Low Carb Maple Pecan Tahini Candy. Pretty simple stuff here and with only 5 ingredients it is one of my easier recipes. I always have tahini in the pantry because I make Baba Ganoush a lot & it also takes tahini. The reason I love the brand tahini shown is 1.) It is employee owned, 2.) For whatever reason it seems softer and much easier to mix in the little oil that separates. 3.) It is non-gmo project verified & everything else verified-just click on the picture to see them all. You will need a 15 piece candy mold and Fat Daddio has many, many of them.
For a list of products you may not be familiar with and used on this site, please read Low Carb Pantry Essentials. I am NOT sponsor-compensated for recommending a product that I use*** And here, in one tidy package, are over 550 Keto~Paleo~Low Carb~Diabetic Chef's Recipes
As I am a Type II diabetic, all recipes on this website are low carb and diabetic friendly.
Maple Pecan Tahini Candy
2015-02-01 15:00:59
Ingredients
⅓ C Tahini
2 T Melted Coconut Oil
1 T Sugarfree Maple Syrup***
4 Drops Liquid Sucralose***
3 T Finely Chopped Pecans
Instructions
Mix first 4 ingredients and put on low heat until soft.
Mix in nuts and spoon into candy mold.
Freeze at least 45 minutes.
Turn out onto counter, put into small dish and refrigerate.
15 Servings
58 Calories, 1.0g Protein, 5.2g Fat, 1.7g Carbs, .6g Fiber 1.1g Net Carbs
Notes
The biggest problem you may have is actually getting these into the refrigerator as the vultures in your home may descend first. They really are that good.
If all goes well and you have a 15 piece 2 t mold, you will get exactly 15 pieces.
Though it is difficult, keep them refrigerated until ready to eat.
Low Carb Scams https://low-carb-scams.com/