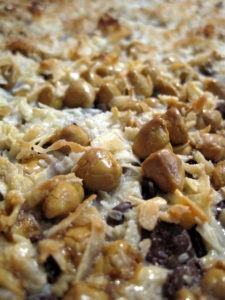 Low Carb Magic Bars. This is my rendition of the famous Eagle Brand recipe for Magic Bars.
I personally never count calories because if you are really and truly eating LCHF calories do not matter. You get and keep that "full feeling" from the fat you are eating. Now I will admit these are not for the faint of heart if you are paying attention to calories and if you do then these are not for you but man oh man these are good, good, good and if nothing else you can use Step 1 to make Sweetened Condensed Milk.
I am betting from the number of servings (30) and the size of the pan that one Eagle Brand portion is about the size of a postage stamp. Good luck on that one. Apples to Apples about two servings of the original to one of mine with ten times the carb count. Yikes!
For a list of products you may not be familiar with and used on this site, please read Low Carb Pantry Essentials. I am NOT sponsor-compensated for recommending a product that I use*** And here, in one tidy package, are over 550 Keto~Paleo~Low Carb~Diabetic Chef's Recipes
As I am a Type II diabetic, all recipes on this website are low carb and diabetic friendly.
Magic Bars
2014-03-10 08:28:26
Topping
1 C Heavy Cream
12 Drops EZ-Sweetz Liquid Sucralose*** or Equivalent Sweetener
⅛ t Xanthan Gum
⅛ t Guar Gum
¼ t Vanilla Extract
2 T Cold Butter
Crust
¾ C Almond Flour
¼ C Ground Pecans
6 Drops EZ-Sweetz Liquid Sucralose*** or Equivalent Sweetener
¼ C Melted Butter
Filling
1 C Heavy Cream
1 C Sugar Free Chocolate Chips
4 Drops EZ-Sweetz Liquid Sucralose*** or Equivalent Sweetener
⅓ C Chopped Walnuts
⅓ C Chopped Pecans
⅓ C Sliced Almonds
¾ C Unsweetened Coconut Flakes
Topping
Whisk and begin heating heavy cream, sweetener and both gums and cook very slowly, whisking occasionally until reduced and thickened. This should take about 12-13 minutes or so.
Remove from heat, add vanilla, and beat in butter 1 T at a time.
This is now essentially a sweetened condensed milk. Taste it and you will see.
Crust
Add sweetener to melted butter, combine with ground nuts and press into a 6"x6" pan. Bake in 350 Degree oven 10-12 minutes or until it just begins to hint at brown.
Filling
Heat heavy cream to just under boiling.
Add chocolate chips & sweetener.
Stir until all chips are melted.
Add three nuts & coconut and mix thoroughly.
Spread over crust.
Spread "sweetened condensed milk" on top.
Bake at 350 degrees about 20-25 minutes or until topping just begins to hint at brown in spots.
Cool completely and refrigerate for at least several hours and over night is best.
Cut into 12 bars.
Servings: 12
361 Calories, 1.0g Protein, 36.7g Fat, 6.6g Carbs, 2.6g Fiber, 4.0g Net Carbs
Comparison
Mine: 12 Servings 361 Calories, 1.0g Protein, 6.6g Carbs, 2.6g Fiber, 4g Net Carbs
Eagle Brand: 30 Servings 190 Calories, 3g Protein, 21g Carbs, 1g Fiber, 20g Net Carbs
Each serving of the original Eagle Brand Magic bar is about the size of a postage stamp so let's get real here. Most people would eat 3-4 servings for a total of 60g-80g net carbs...and that's just for dessert.
Low Carb Scams https://low-carb-scams.com/