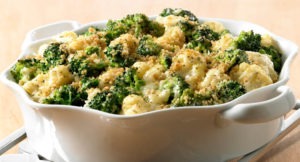 Low Carb Fauxroni & Cheese. What a delightful side dish to any meal. You might add Au Gratin Casserole Topping but it is certainly not necessary. It stands alone quite nicely.
For a list of products you may not be familiar with and used on this site, please read Low Carb Pantry Essentials. I am NOT sponsor-compensated for recommending a product that I use*** And here, in one tidy package, are over 550 Keto~Paleo~Low Carb~Diabetic Chef's Recipes
As I am a Type II diabetic, all recipes on this website are low carb and diabetic friendly.
Fauxroni & Cheese
2014-11-21 08:02:19
Ingredients
1 C Broccoli Florets
1 C Cauliflower Florets
1 C Heavy Cream
¼ C Chopped Shallots
6 Pieces Crumbled Bacon
½ t Dry Mustard Powder
½ C Cheddar Cheese (I Use ½ Cheddar & ½ Gruyere)
2 t Red Wine Vinegar
1 Drop Sucralose (To Counteract Vinegar)
½ t Salt
¼ t Pepper
½ C Parmesan Cheese (More If You Want)
Instructions
Preheat oven to 375 degrees.
Blanch broccoli & cauliflower and drain, drain, drain, put in a bowl and add crumbled bacon.
Very slowly heat heavy cream, shallots, & mustard until slightly thickened (about 3-4 minutes) as it will thicken when cooking.
Remove cream from heat, add cheese and stir until melted, add rest of ingredients and mix into veggies.
Put into 8" glass baking dish, sprinkle with parmesan cheese.
Bake about 15 minutes or until parmesan begins to brown.
8 Servings
223 Calories, 9.3g Protein, 19.2g Fat, 3.0g Carbs, 0.6g Fiber 2.4g Net Carbs
Low Carb Scams https://low-carb-scams.com/