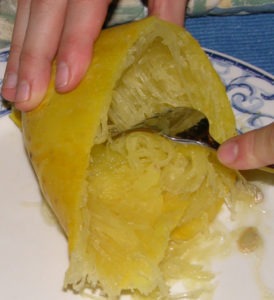 Low Carb Creamed Shrimp & Spaghetti Squash. One of the things I like about spaghetti squash (and there are many) is its versatility so here is another recipe using it. Here is another Creamed Chicken & Spaghetti Squash Bake and another Spaghetti Squash Carbonara and another Spaghetti Squash Pastitsio and another Stuffed Red Peppers I hope at least one of these trips your trigger. This meal is about all you need with the exception of a salad and maybe a very small dessert.
For a list of products you may not be familiar with and used on this site, please read Low Carb Pantry Essentials. I am NOT sponsor-compensated for recommending a product that I use*** And here, in one tidy package, are over 550 Keto~Paleo~Low Carb~Diabetic Chef's Recipes
As I am a Type II diabetic, all recipes on this website are low carb and diabetic friendly.
Creamed Shrimp & Spaghetti Squash
2014-12-20 12:51:05
Ingredients
1 Large Spaghetti Squash
1½ Pounds Bay Shrimp (The Small, Already Cooked Ones)
½ Medium Onion Chopped
2 T Butter
1 Lb Sautéed Mushrooms
2 T Butter
½ C White Wine
1½ C Heavy Cream
¼ C Chopped Green Onion Tops
4 Oz Mozzarella Cheese (Or Cheese Of Choice)
2 T Lemon Juice
2 t Chicken Base
1 t Crushed Garlic (This May Easily Be Omitted)
½ t Red Pepper Flakes
½ C Parmesan Cheese
Salt & Pepper As Needed
Instructions
Bake spaghetti squash, cut in half widthwise, scoop out seeds, and with a fork pull out spaghetti strands. Set aside.
Sauté onion in butter. Set aside.
Saute mushrooms in butter, add back onions, add garlic and wine & reduce by half.
Add heavy cream, lemon juice, pepper flakes, chicken base and reduce slightly.
Add shrimp & green onions.
Reheat squash.
Plate hot squash, quickly sprinkle cheese, evenly distribute shrimp mixture over cheese, & sprinkle Parmesan on top.
6 Servings
521 Calories, 15.9g Protein, 42.6g Fat, 17.7g Carbs, 3.4g Fiber, 14.3g Net Carbs
8 Servings
466 Calories, 11.7g Protein, 40.7g Fat, 13.3g Carbs, 2.6g Fiber, 10.7g Net Carbs
Notes
I'm thinking a bit of bacon and/or fresh basil might be good in this as well.
This can also be made as a casserole which for a larger family may be easier.
Pulled chicken may be subbed for shrimp.
Low Carb Scams https://low-carb-scams.com/