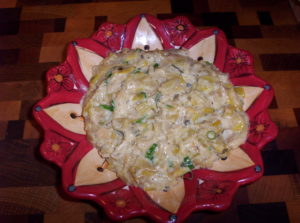 Low Carb Creamed Onions. No, not those old Thanksgiving day only creamed onions, I'm talking serious onions here. I'm talking several kinds of onions and not a pearl onion in sight. This recipe should easily replace the creamed onions of yesteryear cause…this is today. I use a LOT of onions in various recipes on this site and they don't seem to particularly affect my blood sugar so though this does not have a high carb count, check your blood sugar to make sure you are OK.
For a list of products you may not be familiar with and used on this site, please read Low Carb Pantry Essentials. I am NOT sponsor-compensated for recommending a product that I use*** And here, in one tidy package, are over 550 Keto~Paleo~Low Carb~Diabetic Chef's Recipes
As I am a Type II diabetic, all recipes on this website are low carb and diabetic friendly.
Creamed Onions
2016-07-22 14:09:40
Ingredients
2 Lg or 3 Smaller Leeks
1 Large Julienned Yellow Onion
¼ C Butter
2-3 T Water
1 T Dried Chives
2 t Chicken Base
½ t Dried Thyme
¼ t Nutmeg
¾ C Heavy Cream
¼ C Green Onion Tops
Freshly Ground Pepper
Instructions
On medium-low heat large sauté pan with butter and water.
Cut off ends, cut leeks in half, cut into ¼" slices put into cold water, swish them around to clean out grit and put into pan with the julienned onion. Don't worry about any residual water in the leeks as it will evaporate.
Cover and slowly cook down until tender.
Uncover, add rest of ingredients and reduce heavy cream.
Blend in green onions at very end.
Grind in lots of pepper.
6 Servings
237 Calories, 22.5g Fat, 1.6g Protein, 8.9g Carbs, 1.3g Fiber, 7.6g Net Carbs
Low Carb Scams https://low-carb-scams.com/