Low Carb Creamed Brussels Sprouts With Jowl Bacon. So, I took my brother to a restaurant here in Portland the other night and since I use a lot of heavy cream and I love brussels sprouts I ordered this as a side dish. Well, let me tell you it came with a super surprise as Creamed Brussels Sprouts With Jowl Bacon. Guanciale (Gwan Cha Lay) known as Italian spiced un-smoked but cured jowl bacon had also been added to the creamed sprouts. OMG and what a treat. The city of Portland, OR has a great number of restaurants with their own in-house butchers, this is one of those restaurants and…it is only 5 blocks north of me on my street. They also have their own butcher case full of pastured aged beef and some of the best pork anywhere I have ever found. This is also where I buy my beef and pork fat which I render into my own tallow and lard.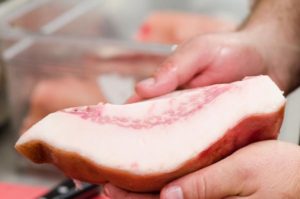 Now, if you are lucky enough to find guanciale or jowl bacon have them slice it about ¼" thick and be sure to cut off the rind. You will never want to be without it again and it freezes perfectly. Two slabs of this stuff? Pure heaven and this product is what the Italians use in Carbonara. With all that said you will probably end up using ham or regular bacon because this stuff is hard to find unless you somehow hit the jackpot.
Talk about Portland farm to table restaurants check out this menu, but no in-house butcher. http://urbanfarmerportland.com/portland-steakhouse-menus/
For a list of products you may not be familiar with and used on this site, please read Low Carb Pantry Essentials. I am NOT sponsor-compensated for recommending a product that I use*** And here, in one tidy package, are over 550 Keto~Paleo~Low Carb~Diabetic Chef's Recipes
As I am a Type II diabetic, all recipes on this website are low carb and diabetic friendly.
Creamed Brussels Sprouts/Jowl Bacon
2015-02-08 15:25:56
Ingredients
16-20 Brussel Sprouts (4-5 Per Person Depending On Size)
2 Slices Cubed Guanciale Or 4 Slices Crumbled Thick Bacon Or 4 Oz. Cubed Ham
2 Slivered Shallots
½ C Heavy Cream
Chicken Base To Taste (Don't Go Nuts As The Meats Can Be Salty)
Pepper
Instructions
Clean and blanch brussels sprouts. Drain.
Fry guanciale or bacon and set aside.
Add shallots to grease, sauté until translucent and add to bacon.
Cut brussels sprouts in half and put cut side down in grease, cover, and cook until nicely browned.
Add back bacon & shallots, add heavy cream and reduce to desired consistency.
Taste, add chicken base & pepper.
4 Servings
207 Calories, 5.9g Protein, 16.6g Fat 7.6g Carbs, 2.2g Fiber 5.4g Net Carbs
Notes
I buy bunches of brussels sprouts when then are in season and blanch & freeze them but to make life easier, you can buy frozen brussels sprouts year round.
Low Carb Scams https://low-carb-scams.com/