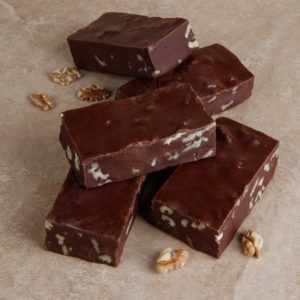 Low Carb Chocolate Walnut Peanut Butter Fudge. One of the things a diabetic misses (and there are lots of things) is a good creamy fudge. Well, you need wait no longer. This is as good as it gets and you can eat several pieces without any guilt what-so-ever.
About 12-15 years ago I realized fudge was far better made with heavy cream rather than milk and up until the diabetes thing it was the best fudge ever and now this is. I really can't tell any difference.
The first time I tried making this I used too much heavy cream (gasp) and we could only eat it with a spoon (another gasp) so I reduced the cream and voila-to die for fudge and how cool is this…you don't have to beat it forever.
For a list of products you may not be familiar with and used on this site, please read Low Carb Pantry Essentials. I am NOT sponsor-compensated for recommending a product that I use*** And here, in one tidy package, are over 550 Keto~Paleo~Low Carb~Diabetic Chef's Recipes
As I am a Type II diabetic, all recipes on this website are low carb and diabetic friendly.
Chocolate Walnut & Peanut Butter Fudge
2014-06-11 11:56:22
Ingredients
¾ C Heavy Cream
¾ C Just Like Sugar
4 Squares Chopped Unsweetened Baking Chocolate
1 C Smooth Peanut Butter
1 C Chopped Walnuts
1½ t Vanilla Extract
6 Drops Liquid Sucralose
Instructions
Add Just Like Sugar to cream, heat to hot but do not boil, and stir until sugars are dissolved.
Add chocolate and stir until melted.
Add vanilla & Sucralose.
Stir in walnuts.
Blend in peanut butter.
Line bottom only of 8"x8" glass baking dish with parchment and spread fudge into pan.
Put in refrigerator.
When firm, cut into 32 1"x2" pieces.
32 Servings
102 Calories, 3.1g Protein, 8.5g Fat, 3.3g Carbs, 1.3g Fiber, 2.0g Net Carbs
Notes
This makes a pretty good amount of fudge but if you have a larger family, then add an additional ½ recipe and use the same size pan for thicker pieces.
Being the kitchen scientist I am I tried this with almond butter but I have to say…not as good.
Low Carb Scams https://low-carb-scams.com/