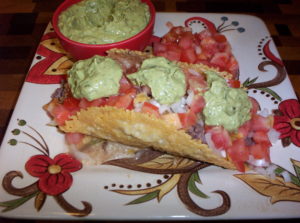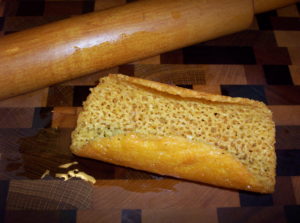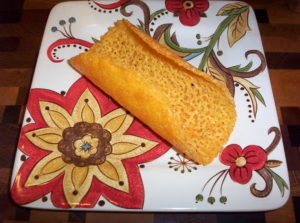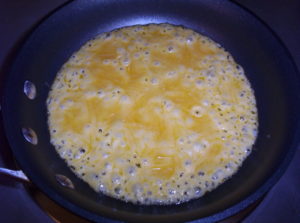 These Low Carb Cheese Shell Tacos have been designed as one per person and after looking at the recipe you will see why. Each one has ¼ lb. of meat, are quite large when finished, and if you can eat two of them then kudos to you. I know there are many different fillings for tacos and please use your favorites. The idea here is that you do not need a corn or flour tortilla to enjoy a taco. Now I do not have a tortilla mold and if you do then OK. As you can see, I used what I have and that happened to be my rolling pin which I don't use too much anymore anyway.
If it's easier then leave the cheese shell flat, pile what you want onto it and call them tostadas as at least in my mind they are the same. I would love to figure out how to make a shredded beef or chicken taquitos but the cheese cools so quickly I can't seem to get them filled and rolled quickly enough. Maybe try to do it in the pan but dang, they are so hot in that pan. I used to be able to pick up and flip bacon on the grill in the restaurant but that was then and this is now. I have become (kind of) a wussy. These are great served with a side of Spanish Rice which means you definitely will not need that 2nd taco you think you can eat and if you have the inclination make the Creamy Avocado Dip or Guacamole and then serve it with some jicama sticks. If you need a Taco Seasoning this is not only very good, it is far less expensive than the store bought stuff which has sugar in it. Chow down cause it's Taco Time.
For a list of products you may not be familiar with and used on this site, please read Low Carb Pantry Essentials. I am NOT sponsor-compensated for recommending a product that I use*** And here, in one tidy package, are over 550 Keto~Paleo~Low Carb~Diabetic Chef's Recipes
As I am a Type II diabetic, all recipes on this website are low carb and diabetic friendly.
Cheese Shell Tacos
2016-07-02 13:01:46
Ingredients
6 Oz Shredded Cheddar Cheese (1½ Oz. Per Taco Shell)
1 Lb 20% Hamburger
1 T Taco Seasoning
2 Oz Shredded Cheddar Cheese (Yes A Bit More)
1 C Shredded Lettuce
1 C Diced Tomatoes
¼ C Minced Onion
¼ C Salsa
¼ C Avocado Dip Or Guacamole
Instructions
Begin heating a 6"-7" non-stick skillet and sprinkle the grated cheese evenly on bottom letting it go for awhile. It will begin to bubble all over and continue to cook until it begins to hold its structure at the edges then let it cook another 2-3 minutes. You will end up with a little cheese oil and you can either drain it or better yet, leave it in the pan and add it to your hamburger.
Working quickly and expecting it to be very hot, slide it out of the pan lay it flat, put whatever dowel you are using and quickly bring up the sides. You will need to hold the sides but by this time they will not be too hot to touch. The taco shell will cool very quickly. If you fail at this the first time all is not lost. Nuke it for 30 seconds and it will soften again enough to form it.
Put meat on bottom, then lettuce and everything else. Drizzle with salsa and top with dollops of guacamole.
4 Servings
496 Calories, 35.6g Fat, 35.3g Protein, 8.2g Carbs, 2.5g Fiber, 5.7g Net Carbs
Notes
Sour cream also makes a nice additional topping.
Low Carb Scams https://low-carb-scams.com/