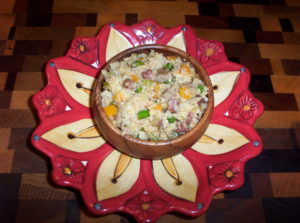 This Low Carb Cauliflower Cajun Dirty Rice might actually be a Creole dish without any spices in it. I like the taste with spices and I have added them. I haven't made it a secret on this site that I absolutely love Cajun and Creole food and this is an extension of it. Take a good look at the picture and you can see little chunks of Tasso. Number 1.) because I love it and Number 2.) because I pretty much always have it on hand in my freezer.
For a list of products you may not be familiar with and used on this site, please read Low Carb Pantry Essentials. I am NOT sponsor-compensated for recommending a product that I use*** And here, in one tidy package, are over 550 Keto~Paleo~Low Carb~Diabetic Chef's Recipes
As I am a Type II diabetic, all recipes on this website are keto-low carb and diabetic friendly.
Cajun Dirty Rice
2016-07-04 12:23:10
Ingredients
4 C Riced Cauliflower
2 T Butter
1 T Olive Oil
¼ Lb Chicken Livers
2 T Butter
¼ Lb Ground Pork
2 T Butter
½ C Finely Chopped Onions
½ C Finely Chopped Celery
½ C Finely Chopped Red, Orange, Or Yellow Bell Pepper
½ C Water
1½ t Chicken Base
1½ t Crushed Garlic
¼ C Green Onion Tops
¼ C Chopped Parsley (Optional)
1 T Favorite Cajun Or Creole Spice
Pepper As/If Wanted
Instructions
Briefly sauté cauliflower in butter and olive oil and set aside.
Sauté chicken livers in butter, mash or cut 'em up a bit and add to cauliflower.
Cook sausage, leaving any grease in pan and add to cauliflower.
Sauté onions, celery, & diced pepper in butter until softened, then add water, garlic, chicken base, spices and parsley if using.
Add back cauliflower mixture and blend well cooking until most of the water has been cooked off.
Add green onions, mix and serve.
6 Servings
239 Calories, 11.6g Protein, 18.7g Fat, 7.5g Carbs, 3.2g Fiber, 4.3g Net Carbs
Notes
If you have Andoille sausage this is another great addition and depending on how spicy it is, adjust your added spices accordingly.
For a complete meal add some sautéed shrimp.
Have giblets? Cook 'em, chop 'em up and throw them in.
Low Carb Scams https://low-carb-scams.com/