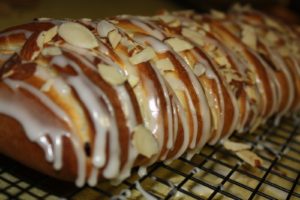 Low Carb Carbalose Flour Almond Raspberry Braid. It seems unbelievable when you look at this braid that it could possibly be low carb. This is lovely and perfect with afternoon tea or a Sunday brunch. With this basic braid recipe you can also fill it with savory vegetables Vegetable Mélange Encased In Pastry or meats or a combo of both to make a meal for two or a side dish for six people. The combinations are almost endless.
Carbalose Flour may be purchased in 3 lb. bags from www.netrition.com
All my other Carbalose Recipes are listed at the bottom of the Carbalose Informational Page.
For a list of products you may not be familiar with and used on this site, please read Low Carb Pantry Essentials. I am NOT sponsor-compensated for recommending a product that I use*** And here, in one tidy package, are over 550 Keto~Paleo~Low Carb~Diabetic Chef's Recipes
As I am a Type II diabetic, all recipes on this website are low carb and diabetic friendly.
Carbalose Flour Almond Raspberry Braid
2014-02-08 13:00:40
Dough
1½ C Carbalose Flour
2 T Coconut Flour
2 T Golden Flaxseed Meal
2 T Refined Coconut Oil
1 T Gluten
½ t Salt
⅛ t Guar Gum
⅛ t Xanthan Gum
1 Large Egg Beaten (Reserve 2 T For Brushing)
¼ C Heavy Cream
10 Drops Liquid Sucralose
½ C Warm Water
1 T Yeast
1 t Sugar
Filling
1 C Sugar Free Raspberry Preserves
Drizzle
1 ½ oz Cream Cheese
3 T Warm Heavy Cream
½ t Vanilla Extract
¼ t Almond Extract
1 T Melted Butter
6-7 Drops Liquid Sucralose
¼ C Toasted Sliced Almonds
Directions
Put first 8 ingredients in processor.
Bloom yeast with sugar in warm water for 10 minutes.
Add Sucralose to top of bloomed yeast.
Add beaten egg and heavy cream to processor, start, add water & yeast and process at least one minute.
Carbalose flour is not sticky but eggs are so this time your dough might be a little sticky and as you are forming the rectangle to put into your pan it will then end up pretty much non-sticky.
Since you will be rolling this into a rectangle place dough in your bread pan, cover with film and let rise about 30 minutes.
Invert dough onto bench floured countertop and roll out rectangle to about 10"x16".
Now, leaving center 4" uncut and beginning at the top, cut every ¾" down one side and correspondingly down the other side at about a 60 degree angle. I use a bench scraper for this because it is blunt but it will cut completely through the dough and if you have to use a knife be very careful not to cut your counter.
Spread center 2 ½" with raspberry filling.
Brush about 1" of the inside braid tips with your reserved beaten egg.
Starting, again at the top, bring one braid across filling and cross it with one from the other side all the way down.
OK, here comes the tricky part. If you have help great and most of the time we don't so…you have to kind of scrunch it up and quickly transfer braid to parchment lined sheet pan. (Or better yet your Silpat) Once you have made the transfer you can re-position and stretch it.
Brush the entire braid with egg wash, cover with film and let rise 15-20 minutes. It may not rise much and it will a little in the oven. You want pastry a bit denser and not bread-like.
Put Braid in 340 degree preheated oven for 25-30 minutes or until golden brown. Let cool completely.
Put cream cheese in small bowl and beat. Add melted butter & both extracts and start adding the warm heavy cream a little at a time until it will "drizzle" and then drizzle the top of your braid and sprinkle with toasted almonds. Voila-finished.
12 Servings
143 Calories, 5.7g Protein, 8.12g Fat, 11.7g Carbs, 3.2g Fiber, 8.5g Net Carbs
Notes
There are certainly other options for your filling. Any sugar free jam would work and any butter, sugar, and ground nut combo would work. So experiment and have fun. An orange glaze on a strawberry filled pastry comes to mind.
If it's summer and you have access to fresh raspberries the drizzle is wonderful on them too.
**If you decide to use this braid recipe with a savory filling reduce Sucralose to 4 drops.
Low Carb Scams https://low-carb-scams.com/