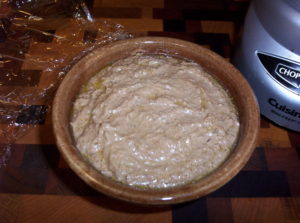 Keto Chicken Liver Pate. Many restaurants serve Chicken Liver Pate & terrines and charge an arm and a leg but you can make them for pennies. Chicken livers are cheap, cheap, cheap. You might see it served looking like a thin slice of bread because it is mostly made in loaf pans and then served with toast. This keto chicken liver pate is food for the Gods.
As you look at this recipe you may say what?…juniper berries? The answer is a resounding yes. They are the secret ingredient and make the difference between a good chicken liver pate and a great one. You can eat this, love it, and if you didn't know the berries were in it you would most likely not be able to identify or name the flavor.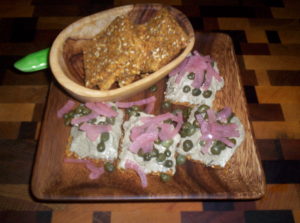 I serve this on Hazelnut Crackers. If you want to doll it up for a party or just gild the lily for yourself you can stick capers into the pâté and put three or four strands of Pickled Red Onions on top.
For the more traditional restaurant style make yourself some Carbalose Flour Bread, toast it, butter it, and top with pate, capers and Pickled Red Onions.
For a list of products you may not be familiar with and used on this site, please read Low Carb Pantry Essentials. I am NOT sponsor-compensated for recommending a product that I use*** And here, in one tidy package, are over 550 Keto~Paleo~Low Carb~Diabetic Chef's Recipes
As I am a Type II diabetic, all recipes on this website are low carb and diabetic friendly.
Chicken Liver Pate
2013-08-13 07:38:28
Ingredients
½ Lb Chicken Livers
2 Shallots Diced
1Garlic Clove, Smashed & Peeled
1 Bay Leaf
½ t Dried Thyme
8 Crushed & Minced Juniper Berries
¼ C Water
½ C Heavy Cream
3 T Soft Butter
1 T Brandy Or Cognac
½ t Salt
¼ t Pepper
Directions
In a medium saucepan, combine the chicken livers, shallots, garlic, bay leaf, thyme, salt, pepper, juniper berries, and water. Heat on medium-low and cook, uncovered and stirring occasionally, until the livers are barely pink inside, about 3 minutes and the water is almost gone.
Remove the livers, add cream & brandy, bringing to a simmer until slightly thickened.
Remove from heat and discard bay leaf.
Transfer everything to a food processor; process until coarsely pureed. With the machine on, add the butter, 1 tablespoon at a time, until incorporated. season with salt and pepper to taste and process until completely smooth. Scrape the pâté into 2 or 3 ramekins for guests to share or as you can see in the picture, for us I use that brown bowl you see. Press a piece of plastic wrap directly onto the surface and refrigerate until firm.
Serve semi-chilled.
Serving Size 1 T
24 Servings
45 Calories, 1.9g Protein, 3.9g Fat, .6g Carbs, .0 Fiber, .6g Net Carbs
Notes
What I do. I fix chicken livers for dinner the night before and make an extra ½ pound for the pâté. I salt and pepper them, dredge in peanut flour, and fry them in ½ olive oil and ½ butter and no, they do not taste like peanuts.
This pâté is one of those foods that is better after sitting in the fridge for at least 4-6 hours and if you can keep your hands off of it a couple of days even better. This allows plenty of time for the flavors to mellow and come together.
Low Carb Scams https://low-carb-scams.com/