Low Carb Crabmeat St Francis. This is my variation of a very famous New Orleans dish by famed Chef Warren LeRuth. I was first introduced to this dish while working at Beggar's Banquet in E. Lansing, Michigan in 1974. One of the four owners had worked for Chef LeRuth and we served it as an appetizer. Oh, what heady days those were.
Warren LeRuth is now dead, and I don't know where Martin Richard (pronounced Ri Chard) is, but Beggar's Banquet? It is still there at the main entrance to Michigan State University on Abbott Rd. serving great food after opening 40 years ago.
As I am a Type II diabetic, all recipes on this website are low carb and diabetic friendly.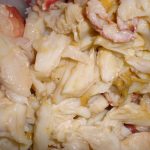 Crabmeat St. Francis
2013-09-18 05:27:22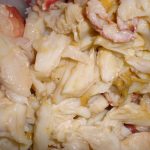 Ingredients
¼ C Butter
½ C Green Onions Finely Cut Tops Only
½ Onion, Chopped
½ C Celery Chopped Small
2 Bay Leaves
½ t Thyme Leaves Dried
¼ t Celery Seed
¼ t Pepper
2 t Chicken Base
2 C Heavy Cream
1 Lb Lump Crabmeat
¼ t Cayenne Pepper (Or Chipotle Powder Might Be Good)
Topping
½ C Parmesan Cheese
1 t Paprika
¼ C Butter
Instructions
Preheat oven to 425 F degrees.
Heat butter in a saucepan until it bubbles. Add all ingredients except cream and crab, and sauté until the vegetables are well cooked and a little brown. Add heavy cream and reduce slightly. Remove bay leaves and add crabmeat.
Put into casserole dish.
Mix parmesan cheese, paprika and butter and top casserole.
Bake until the cheese just starts to brown and the sides of the dish begin to bubble. 15-20 minutes.
Remove from the oven and serve over mashed cauliflower.
Serves 4
710 Calories, 11.1g Protein, 3.75g Carbs, 1g Fiber, 2.75g Net Carbs
Notes
If crabmeat is too expensive where you live then you could easily substitute finely chopped shrimp, langostinos, chopped clams or a combination of some kind. And as I think about it you might even try imitation crab meat.
Low Carb Scams http://low-carb-scams.com/