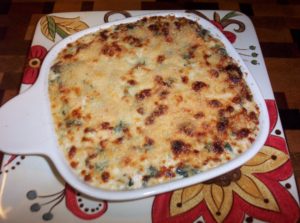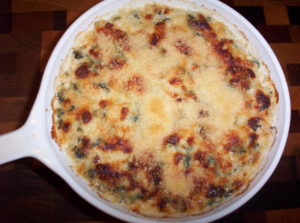 Low Carb Hippie Dippie Shrimpie. Yep, I was a product of the mid-sixties and a full blown hippie hence the name of this appetizer Low Carb Hippie Dippie Shrimpie. I think the term "hippie" is a state of mind and as I know myself, I am still a bonafide hippie. Oh man, this is gooeyness at its best. I actually originally made this with langostinos but it can also be made with shrimp, crab, and, if you can afford it, (I can't) lobster.

Since I live in Oregon, we get the best and freshest Bay Shrimp ever. Most commercial shrimp are bathed in sodium tripolyphosphate which imparts an ammonia-like odor and I don't know about you, but ammonia is a total turn-off for me. Sodium tripolyphosphate is used extensively in the whole of the fish & seafood industry to keep it "fresh". When cooked it reveals itself as a white "milky" liquid that mixes with your butter or cooking oil which is why no matter how hot you get your butter, that crummy liquid comes out. If you are not picky don't worry about it and if you are, ask your local market for "dry" shrimp or scallops. Since using sodium tripolyphosphate helps seafood retain liquids it is also known as "plumping" or "enhancing" and is used much the same way as the poultry industry. To read more please see the Southern Fried Chicken recipe as I have explained it there. Seriously, ya gotta be careful out there.
For a list of products you may not be familiar with and used on this site, please read Low Carb Pantry Essentials. I am NOT sponsor-compensated for recommending a product that I use*** And here, in one tidy package, are over 550 Keto~Paleo~Low Carb~Diabetic Chef's Recipes
As I am a Type II diabetic, all recipes on this website are low carb and diabetic friendly.
Hipppie Dippie Shrimpie
2014-08-21 08:11:13
Ingredients
½ Lb Any Size Peeled Shrimp (Bay Shrimp Are Already Cooked)
2 T Butter
1½ t Crushed Garlic
½ t Red Pepper Flakes
¼ C White Wine
2 T Lemon Juice
4 Oz Room Temperature Cream Cheese
¼ C Sour Cream
¼ C Mayonnaise
1 C Shredded Full Fat Mozzarella Cheese
½ C Chopped Spinach (Optional)
¼ C Parmesan Cheese
½ t Salt
¼ t Pepper
Instructions
Preheat oven to 350°.
Butter a 6"-8" baking dish.
Melt butter on high heat, add shrimp, garlic, & red pepper flakes and cook. Stir in wine & lemon juice.
Put shrimp mixture in processor and pulse several times.
Whip cream cheese, sour cream, mayonnaise, salt & pepper.
Blend in spinach & cheese.
Blend in shrimp mixture.
Spread into dish & sprinkle with Parmesan cheese.
Pop into oven, bake until warm and until cheese has melted and Parmesan has browned a bit.
Serve immediately.
8 Servings
233 Calories, 13.2g Protein, 19.1g Fat, 2.0 Carbs, .1g Fiber, 1.9 Net Carbs
Notes
If you opt to use bay shrimp, decrease butter by 1 T and you will still want to briefly sauté your garlic, & pepper flakes with the wine & lemon juice.
This may be eaten using celery pieces, red & yellow pepper sticks or…use your imagination…and there is always using a spoon.
Another option, if you make Carbalose Bread yet, spread on toast points.
What I do. Microwave until warm and put into 375° oven until Parmesan has just begun to spot a little brown.
Low Carb Scams https://low-carb-scams.com/