Keto Porcini Cream. True Story: Close to 45 years ago I was in a Wild Oats grocery in Boulder, CO and they had a large jar of some ole dried out mushrooms-but they were very expensive. Being the curious type I opened the jar to smell them. Ye Gads, I had never smelled anything so heavenly. I bought a very small container having no idea at the time what to do with them. Really, all I wanted was to open them periodically just to get another whiff. Remember, this was way before the internet and though I worked in a restaurant at the time, I was in the front end waiting tables. I don't remember when I started using them but when I did it was like…whoa, I wish I had started earlier. Here is a very easy Chicken Cordon Bleu recipe using porcinis with a chicken base and you will see the use porcini mushrooms throughout this site. So, in IMHO this keto porcini cream may be the best sauce (and maybe second best) that I make.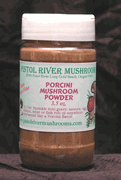 I use dried porcinis in many dishes, I do make my own dust with them, and you can buy the dust here: Pistol River Porcini Dust. Just adding dust to regular sautéed mushrooms is terrific, let alone the myriad other things you can add it to. It is my opinion that the highest and best use for this porcini cream is napping a filet mignon or any other steak. One of the reasons you see filets wrapped in bacon is to give them flavor and with this cream that is definitely not necessary. The reason I often prefer powder to dried mushrooms is…and please see: USING SURFACE AREA TO YOUR ADVANTAGE
For a list of products you may not be familiar with and used on this site, please read Low Carb Pantry Essentials. I am NOT sponsor-compensated for recommending a product that I use*** And here, in one tidy package, are over 550 Keto~Paleo~Low Carb~Diabetic Chef's Recipes
As I am a Type II diabetic, all recipes on this website are low carb and diabetic friendly.
Porcini Cream
2014-10-25 13:02:49
Ingredients
2 C Heavy Cream
2 t Beef Base (Or To Taste)
1½ Oz Dried Porcini Mushrooms
2 t Porcini Dust
3-4 T Hot Water
Cracked Pepper
Instructions
Soak dried mushrooms in hot water about 10-15 minutes. DON'T throw any of the water away.
Simmer all ingredients until slightly thickened and desired consistency is reached. Taste & correct if necessary.
6 Servings
274 Calories, 1.6g Protein, 28.8g Fat, 2.2g Carbs, 0.0g Fiber, 2.2 Net Carbs
Notes
From this basic recipe you can add sautéed mushrooms, shallots, or whatever else you might want.
As this is used to nap steaks I believe it will do six servings quite nicely. Pictured is a filet mignon.
Be sure not to let the gravy get too thick because as it cools it gets even thicker but you can always add a tad or water.
Low Carb Scams https://low-carb-scams.com/