Low Carb Roast Beef Spread. If your husband finds this Roast Beef Spread in the refrigerator he may grab a fork, stand there with the fridge door open, and eat it out of the bowl and…you will scream at him. This is good on Sour Cream & Chive Crackers or Hazelnut Parmesan Crackers and if you decide to use this spread in a sandwich you can put it on Naan Flat Bread (pictured) and top it with Pickled Red Onions or spread it on a Carbalose Flour Tortillas and oh yeah, plain, right out of the bowl with a fork. It's OK if you do it…just not your husband. If you prefer to make a really hearty breakfast with your left-over Prime Rib you may wish to try the Roast Beef Hash. Low carb roast beef spread, it's pretty hard to put your fork down.
Mt. Olive Sugar-Free Bread & Butter Chips (wow are these good) are available on Netrition.
For a list of products you may not be familiar with and used on this site, please read Low Carb Pantry Essentials. I am NOT sponsor-compensated for recommending a product that I use*** And here, in one tidy package, are over 550 Keto~Paleo~Low Carb~Diabetic Chef's Recipes
As I am a Type II diabetic, all recipes on this website are low carb and diabetic friendly.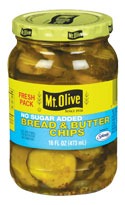 Roast Beef Spread
2014-02-05 00:57:49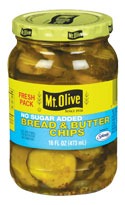 Ingredients
1 Pound Cooked Roast Beef
¼ C Chopped Onion
¼ C Chopped Celery
½ C Low Carb Bread & Butter Pickles***
½ C Mayonnaise (More If Necessary)
1-2 T Pickle Juice To Taste
½ t Onion Powder
½ t Salt
¼ t Pepper
Directions
Put beef and onion, celery, and pickles in food processor, pulse until small & evenly chopped, and transfer to bowl. Add remaining ingredients, with enough mayonnaise and pickle juice to taste and moisten as desired. Serve as a spread on hazelnut crackers. Naan Flat Bread or as a spread for sandwiches on Carbalose flour bread.
Toast the bread, or not, and spread with a little butter or mayonnaise. Spread a layer of the roast beef spread and finish with a few threads of pickled red onion & a couple of pickles.
6 Servings
287 Calories, 17.1g Protein, 28.7g Fat, 1.1g Carbs, .2g Fiber, 0.9g Net Carbs
8 Servings
215 Calories, 12.8g Protein, 21.5g Fat, 0.8g Carbs, .2g Fiber, 0.6g Net Carbs
10 Servings
172 Calories, 10.2g Protein, 17.2g Fat, 0.6g Carbs, .2g Fiber, 0.4g Net Carbs
Notes
Another alternative serving suggestion: Put a couple of pieces of lettuce on a small plate and serve as a side salad.
I had occasion to do a prime rib roast but if you slow-cook your own chuck roast and shred it this works wonderfully for this recipe, it's much less expensive and you may not need to process it.
My best guess is that you will get 8-10 servings from this unless you pile it on a very large sandwich.
If you've not had Mt Olive sugar-free bread & butter pickles they are a quick, safe addiction.
I gussied it up a bit with a few pickled red onions & a couple of pickles.
Low Carb Scams https://low-carb-scams.com/