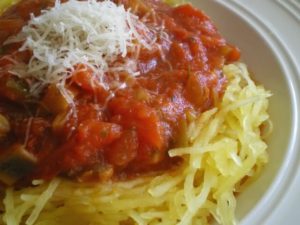 Low Carb Spaghetti Squash With Traditional Tomato Sauce. This is about as low carb as you can make spaghetti squash with tomato sauce. Tomatoes, if using enough to make a sauce, inherently have carbs and for that matter so does spaghetti squash. I do not eat this often nor do I eat any more than one serving but it is so, so good and if you happen to have the Italian Dipping Oil Herbs you are already halfway home. One half order actually makes a very nice dinner side accompaniment. The sauce is also very good on Spaetzle.
Another great addition to this basic recipe is one of these wonderful Large Meatballs.
For a list of products you may not be familiar with and used on this site, please read Low Carb Pantry Essentials. I am NOT sponsor-compensated for recommending a product that I use*** And here, in one tidy package, are over 550 Keto~Paleo~Low Carb~Diabetic Chef's Recipes
As I am a Type II diabetic, all recipes on this website are keto-low carb and diabetic friendly.
Traditional Spaghetti Squash With Tomato Sauce
2015-04-07 00:55:33
Ingredients
2¼ C Cooked Spaghetti Squash
1 Can Diced or Crushed Tomatoes (I Use Diced-I Like It Chunky)
½ C Slivered Onions
½ C Sauteed Mushrooms
½ C Water
2 T Good Red Wine
1 t Crushed Garlic***
1 t Dried Italian Herbs
¼ t Dried Basil
½ t Salt
¼ t Pepper
Sprinkled Guar Gum (Trust Me It Doesn't Take Much)
2 T Olive Oil
2 T Parmesan Cheese
Instructions
Excluding squash dump first 10 ingredients in sauce pan, cover and bring to very low simmer for at least an hour and/or until onions are totally translucent.
Sprinkle a very tiny amount guar gum to thicken sauce. (I use an old salt shaker)
Top squash with sauce, drizzle with 1 T olive oil, & sprinkle with 1 T Parmesan cheese.
Eat it up.
4 Servings
113 Calories 1.3g Protein, 7.0g Fat, 11.2g Carbs, 2.5g Fiber, 8.7g Net Carbs
2 Servings
225 Calories, 2.5g Protein, 14.0g Fat, 22.3g Carbs, 5.0g Fiber, 17.3g Net Carbs
Notes
To extend this dish a bit add ¼ lb. hamburger to sauce or top with meatballs which will add no additional carbs.
Low Carb Scams https://low-carb-scams.com/