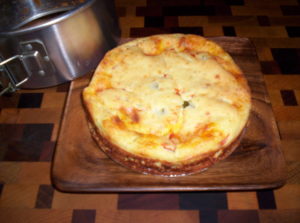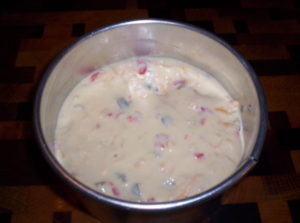 Low Carb Mexican Cornbread. If you don't think this low carb Mexican Cornbread tastes as close to real cornbread as you can get-then I will eat my Mexican sombrero. It's spicy, filling, healthy, & will fill your kitchen with the aromas reminiscent of a Mexican restaurant. The best thing about this recipe? No almond meal anywhere to be found. Perfectly paired with Firehouse Fresh Steak Chili
I think this may be my first "variegated paleo" dish. Variegated in that I subbed sour cream for vinegar and most paleo followers say no to dairy. Hey, I tried it with vinegar and to my taste it was awful and…I like and use a lot of vinegar.
One of the things (and there are many) since I started this website is the emailing and phone conversations I have had with people from all over the country. I have had the great pleasure in the last week of a running email exchange with health coach Jamie Koonce www.jamiekoonce.com who gave me a basic paleo coconut bread recipe and this is my very much added to and altered rendition. The basic recipe is delicious (and I will post it) but I did not care for the taste of the vinegar in it so I subbed it with sour cream. Jamie's titles include: Holistic Nutritionist, Functional Medicine Practitioner, and Traditional Oriental Medicine Practitioner and if I lived in or near AR I would try to meet her. Jamie is also available to clients everywhere by phone and Skype.
For a list of products you may not be familiar with and used on this site, please read Low Carb Pantry Essentials. I am NOT sponsor-compensated for recommending a product that I use*** And here, in one tidy package, are over 550 Keto~Paleo~Low Carb~Diabetic Chef's Recipes
As I am a Type II diabetic, all recipes on this website are low carb and diabetic friendly.
Mexican "Cornbread"
2014-05-04 23:10:05
Ingredients
¼ C Coconut Flour
1 t Baking Powder
¼ t Xanthan Gum
Dash Salt
2 Eggs
½ C Water
¼ C Sour Cream
2½ T Melted Coconut Oil
2 T Minced Onions
2 T Minced Roasted Red Pepper
2 T Minced **Pickled Jalapenos (No Carrots Or Onions)
2 Oz. Cheddar Cheese (Or Cheese Of Choice)
Instructions
Preheat oven to 400 degrees.
Blend first 4 ingredients in medium bowl.
Beat eggs, add water, sour cream, 2 T oil, beat again then beat into dry ingredients.
Blend in veggies and cheese. Let rest for a couple of minutes-it will thicken. Blend once again.
Pour into round well oiled pan. (last ½ t oil)
Bake 30 minutes, rest 5 minutes, make sure it is not sticking to sides of pan and take off outer ring if using a small springform or removable bottom pan. (Recommended-See Notes)
6 Servings
155 Calories, 5.1g Protein,12.2g Fat, 2.9g Carbs, 1.1g Fiber, 1.8g Net Carbs
4 Servings
233 Calories, 7.7g Protein, 18.3g Fat, 4.3g Carbs, 1.6g Fiber, 2.7g Net Carbs
Notes
I use a small 6" springform pan for this which is perfect. There is also a 6" removable bottom cake pan made by Fat Daddio's and I really like this company. There are several others and it you don't use removable bottom pans you are missing the boat. I have different sizes and use them for lots & lots of things.
If you decide to split this puppy with a buddy, and maybe with the addition of sausage or minced ham, it would make a great & somewhat different breakfast. Yeah, and maybe even with a side of bacon.
Double the recipe, use an 8" round pan and cut into 8 slices.
Low Carb Scams https://low-carb-scams.com/