Low Carb Carbalose Flour Tortillas. Don't really have much to say about these low carb Carbalose Flour Tortillas except they are beyond delicious and terribly functional. I have to say, because I am diabetic and know how to cook, that Carbalose flour has been a gift. I am extremely carb sensitive and this flour does virtually nothing to my blood sugar. Since we are all different and especially if you are diabetic, then you need to check all the Carbalose recipes for yourself.
Carbalose Flour may be purchased from Netrition.
All my other Carbalose Recipes are listed at the bottom of the Carbalose Informational Page.
For a list of products you may not be familiar with and used on this site, please read Low Carb Pantry Essentials. I am NOT sponsor-compensated for recommending a product that I use*** And here, in one tidy package, are over 550 Keto~Paleo~Low Carb~Diabetic Chef's Recipes
As I am a Type II diabetic, all recipes on this website are low carb and diabetic friendly.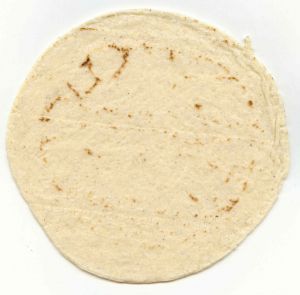 Carbalose Flour Tortillas
2014-02-05 08:27:52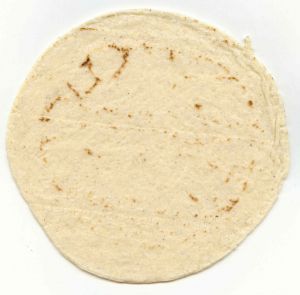 Ingredients
4 Cups Carbalose Flour*** + More For Bench Flour
¼ t Guar Gum
¼ t Xanthan Gum
1½ t Salt
½ t Baking Powder (Not Really Needed)
½ C Real Lard (Or 1 Stick Butter If You Have To)
2 C Boiling Water
9 Drops Liquid Sucralose***
Instructions
Place the flour in processor.
Add dry ingredients and fat.
Add Sucralose to water.
Start processor and pour boiling water over the ingredients. Process for about a 1 minute. Dough should be very moist, very soft, and will not be sticky.
Cut the dough into 14-2½ oz. pieces and form into little balls and flatten to a four inch disk with your fingers tips.
Cover your flattened disks and let rest for 20 minutes.
Apply bench flour and starting from the center roll out and then in until you form an oval. Lift up the oval and turn it 45 degrees, and roll it out again. Turn it 45 degrees again to the right until you have an 8" circle (or something resembling one. You want your tortillas as thin as you can get without them tearing.
Place the tortilla on a hot (375-400 degree) griddle pan, or cast-iron skillet. It may or may not forms small bubbles on the upside of the tortilla. When they are just turning brown flip over the tortilla, and if it bubbles or inflates a bit-stick the tip of a knife in them.
I just stack all 14 of these babies one on top of another as they come off the griddle and when I'm finished I wrap the whole stack with film, stick them in a 1 gallon freezer bag and freeze them. Unlike traditional tortillas they do NOT STICK TOGETHER and you can get them straight from the freezer one by one.
14 Servings
152 Calories, 9g Protein, 10.5g Fat 13.7g Carbs, 8.3g Fiber, 5.4g Net Carbs
Notes
Please note the use of *Sucralose in each of the recipes using Carbalose is only to negate the bitter taste of the flour and DOES NOT make the recipe "sweet".
If you have a Silpat these can be rolled on it and you will not need the additional bench flour.
Lard is the true secret to real tortillas. Not Crisco and definitely not the hydrogenated crap you can buy in you local grocery store-I'm talking about your own rendered lard which is actually quite easy to do yourself and if not it can be purchased on the internet. In your dreams you cannot imagine how good lard makes a tortilla. It is much better to use butter than either of the other two alternatives.
Don't forget, you can make your own low carb chips with these. Cut each tortilla into eight wedges, brush lightly with oil, sprinkle with a bit of salt and bake at 350 degrees for 12-15 minutes. You of course can also fry them in oil and…yes this is what I do...in lard or…in tallow. Oh my goodness.
If you tear a tortilla when you are rolling it, just ball it up and start over.
Low Carb Scams https://low-carb-scams.com/