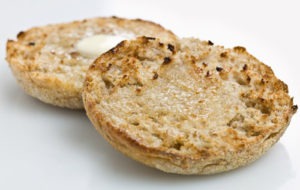 This Low Carb Carbalose Flour English Muffins recipe has been a long time coming and is long overdue. When I was originally married in 1968 one of the gifts I received was the new & revised 1968 version of The Joy Of Cooking. 47 years later that book is the most dog-eared, moth-eaten cookbook I have. Back then it didn't take me long to find the English muffin recipe on Pg. 568 and until I was diagnosed as diabetic, I always made my own English muffins and I have made 100's of them. Much less expensive, fun to make and taste lots better. So…after much time and procrastination I made them with Carbalose flour this morning and believe it or not they were a success on the first try. The deal is-English muffins are so good for so many things that I have actually missed them. And now, instead of relying of one of those crummy McMuffins at you know where, you can stay at home and make yourself a healthier one instead.
Here's a little test. How do you know by looking at an English muffin that it is homemade? Because when they cook they don't split themselves, you have to do that.
I didn't use all the Carbalose Flour Bread dough ingredients although I think I could have. I didn't use coconut flour and I subbed butter for coconut oil. The basic difference with bread vs muffins is you make a muffin "batter", let it rise & collapse, then add the fat & remaining flour. I also used to make my original muffin dough into a loaf of bread and I may test that one day too.
All my Carbalose Recipes are listed at the bottom of the Carbalose Informational Page.
For a list of products you may not be familiar with and used on this site, please read Low Carb Pantry Essentials. I am NOT sponsor-compensated for recommending a product that I use*** And here, in one tidy package, are over 550 Keto~Paleo~Low Carb~Diabetic Chef's Recipes
As I am a Type II diabetic, all recipes on this website are low carb and diabetic friendly.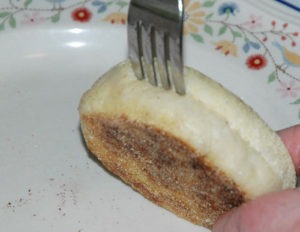 English Muffins
2015-03-31 05:30:13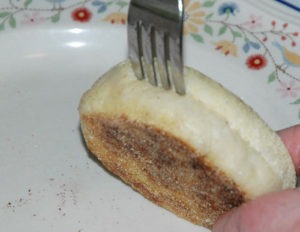 Ingredients
3 C Carbalose Flour***
¼ C Gluten
¼ t Guar Gum
½ t Xanthan Gum
1 t Salt
¼ C Warm Water
¼ C Golden Flaxseed Meal
1¼ C Warm Water
1 t Sugar
1½ T Yeast
8 Drops Liquid Sucralose***
¼ C Warmed Heavy Cream
2½ T Soft Butter + 3½ T Melted Butter
Instructions
Mix yeast, sugar and water and bloom for 10 minutes then add Sucralose.
Add flaxseed meal to ¼ C warm water for 10 minutes. (It will become quite gelatinous)
Put 1¼ C flour, gluten, gums, and salt into a mixing bowl & beat in liquids including cream & watered flaxseed meal. It should now look like a batter.
Cover loosely and allow sponge to rise, (bubble & collapse) in a warm place. This should take about 1-1¼ hours. (I turn my oven onto the lowest setting for a couple minutes, turn it off, make the sponge batter, and put in the oven).
Preheat griddle to 350°.
Using a whip, or an electric mixer, beat in softened butter 1 T at a time.
Start beating in remaining flour ¼ C at a time until your whip or mixer won't take any more.
Roll dough onto counter, knead in remaining flour ¼ C at a time and finish kneading 1-2 minutes.
Dough will not stick to counter.
Roll dough to ½" thick and with a 3¼"-3½" ring, press down but do not twist. Continue until as many muffins can be cut and as you have leftover dough, knead & reform and cut more muffins.
Brush muffins with melted butter and gently place on griddle buttered side down and then gently brush tops of muffins.
Muffins will rise after being put on the griddle and just leave them alone for 4-5 minutes or until browned on first side.
Gently turn over and finish cooking.
Place on wire rack and cool completely.
Muffins will deflate a bit upon cooling-it's OK-you didn't do anything wrong.
The longer you leave these on the cooling rack the better. (Within reason of course). They are much easier to fork open after resting.
8 Servings-Larger Ring
279 Calories, 17.7g Protein, 18.5g Fat, 20.2g Carbs, 11.g Fiber, 8.3g Net Carbs
10 Servings-Smaller Ring
221 Calories, 14.2g Protein, 14.8g Fat, 16.2g Carbs, 9.5g Fiber, 6.7g Net Carbs
Notes
These can easily be individually wrapped and frozen.
A 3¼" ring will yield about 10 muffins and a 3½" ring will yield 8 muffins.
There are several ways to cut muffins. If you fork it open it will have those famous nooks & crannies which of course are great at holding all that butter you might want to slather on them. But you can also slice them with a knife if you plan to make say, eggs benedict and want a flat surface to mound things onto.
I have pretty much always forked mine but as I said there are advantages to both ways.
If you have a rather straight fork it helps as a curved fork takes a little getting used to splitting evenly.
I love these buttered, slathered with cream cheese, capers, lox or smoked salmon, a slice of tomato, and raw red onions rings and lots of fresh cracked pepper. Oh Baby, Oh Baby.
These also make terrific individual mini pizzas, a pretty good burger bun, good under chicken, tuna, ham, or shrimp salad with melted cheese on top. (Think they call that a melt), and of course classic eggs Benedict which has many different variations of it's own. I'll bet you can come up with lots of ways to use them.
Low Carb Scams https://low-carb-scams.com/