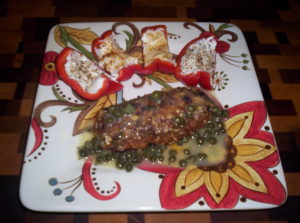 Low Carb Salmon Croquettes, or as I like to call them, little submarines on a plate. I have certainly said it elsewhere that my mother was a terrific cook and one of the things, every once in a while, that she tried to shovel down our gullets were salmon croquettes. I can tell you now that all three of us kids hate, hate, hated them and as you can imagine I did not eat them for many years. When I decided to experiment and add a lot more ingredients than my mom used and of course with the advent of better ways to eat salmon I came up with these. Not much different than my originals but of course I do not use any panko or bread crumbs and now I realize how good they can be fried in lard. Probably one of the biggest ways I get around using bread crumbs is the use of crushed fried pork skins. It takes more than a rolling pin but your food processor will work quite well. Yes, I do fry my own raw pork pellets from Willies since I also eat them as my diabetic popcorn but once they are crushed they can be used in all kinds of recipes. A few examples might be: Crunchy Deep Fried Chicken Chips, Fried Cauliflower Tater Tots, Chicken Kiev, Crab Cakes & Spicy Chipotle Aioli, and I even have a completely different recipe for Salmon Cakes & Tartar Sauce. In the picture above I paired it with a buttery lemon wine caper sauce and of course you can use your own or perhaps try my Tartar Sauce. No matter what you serve with your low carb salmon croquettes life will be better.
If you don't have the time or inclination to pop your own pellets and grind them, then you can buy a 3 oz. bag of Pork Dust or a 12 Oz container also through Netrition. One of the reasons I have always liked to pop and grind my own dust is that I was able to control the fineness of the grind. But since I have now gotten the pork rind crumbs to the right I will not go back. They are fried in their own lard and what could be better? I contacted Bret at www.baconsheir.com to see what the cup count of their 1 lb. bag would be and he graciously told me about 7 cups so you can see at $21.00 per bag, and if you don't want to pop your own, this is a great way to get them.
For a list of products you may not be familiar with and used on this site, please read Low Carb Pantry Essentials. I am NOT sponsor-compensated for recommending a product that I use*** And here, in one tidy package, are over 550 Keto~Paleo~Low Carb~Diabetic Chef's Recipes
As I am a Type II diabetic, all recipes on this website are low carb and diabetic friendly.
Salmon Croquettes
2017-01-16 14:18:30
Ingredients
1 Lb Canned Salmon (Yes, Fresh Is OK And Just More Time Consuming)
½ C Water
3 T Butter
1 Small Onion Very Finely Diced
¾ C Celery Very Finely Diced
¾ C Red Bell Pepper Very Finely Diced
¾ C Yellow Bell Pepper Very Finely Diced
⅓ C Finely Ground Pork Skins***
2 T Dried Parsley (Fresh Is Fine If Finely Chopped)
½ C Mayonnaise
2 T Drained And Chopped Capers
1 T Worcestershire Sauce
2 t Dijon Mustard
2 t Old Bay Seasoning
¼ t Tabasco Sauce
2 Eggs Beaten
¼ C Sour Cream
1½ C Finely Ground Pork Skins*** (+ More Only If Needed)
Oil Of Choice For Frying
Instructions
Slowly heat butter and water, dice all vegetables, add to butter & water, cover, and cook until soft. Drain if there is any water left or...better yet...uncover until it is all evaporated. Cool completely.
Flake salmon making sure to discard any bones and put into a bowl. Blend in ⅓ C pork skins.
In another bowl mix mayo, capers, Worcestershire sauce, mustard, parsley, old bay, and Tabasco.
Beat eggs and sour cream until smooth, add 3 T to mayo mix and reserve the rest.
Blend mayo mix into salmon making sure all is coated. At this point if you are not making immediately, cover and refrigerate for later. It is best chilled anyway.
Put balance of egg mix on a plate, put ground pork skins on another plate and have a third plate to put finished croquettes on.
Dividing salmon into 6 equal parts, form into little submarines.
Roll each in the egg, then in the pork skins and put onto the third plate.
Heat oil of choice (I do use lard) and when oil reached 340°-350° place each sub gently into the oil. When browned turn and brown 2nd side.
Serve with lemon wedges and tartar sauce. I will say these are so flavorful that they are good just plain.
6 Servings
383 Calories, 27.5g Protein, 28.0g Fat, 5.0g Carbs, 1.6g Fiber, 3.4g Net Carbs
Notes
Easy enough to make into hors d'oeuvres with a thin slice of lemon on top.
Low Carb Scams https://low-carb-scams.com/