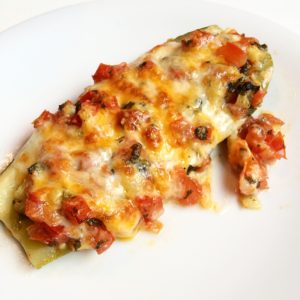 Low Carb Zucchini Meatza Boats-Basil Cream Drizzle. There are lots of similar recipes and this is my take on them. Since so many use a tomato based sauce this is different in that it has a Basil Cream Drizzle. A little different and a ton of delish. I do not most often put pepperoni on pizza for two reasons. 1.) It is mostly so full of chemicals and 2.) I don't like pepperoni that much and if you do by all means use it. If you like olives chop some and add 'em. Hey, these are for your taste, it's just a recipe-alter it any way you wish.
For a list of products you may not be familiar with and used on this site, please read Low Carb Pantry Essentials. I am NOT sponsor-compensated for recommending a product that I use*** And here, in one tidy package, are over 550 Keto~Paleo~Low Carb~Diabetic Chef's Recipes
As I am a Type II diabetic, all recipes on this website are low carb and diabetic friendly.
Zucchini Meatza Boats/Basil Cream Drizzle
2015-03-08 13:53:33
Filling
3 Large Straight Zucchini
⅓ Lb 20% Ground Beef
⅓ Lb Ground Pork Sausage
⅓ Lb Shaved Dry Ham
¼ t Dried Oregano
¼ t Ground Fennel (Optional) This Is The Same Spice You Taste In Pizza Sausage
½ C Diced Fresh Tomato
½ C Chopped Fresh Basil
¼ C Sauteed Chopped Mushrooms
½ Sauteed Slivered Onion
½ T Crushed Garlic
1 Beaten Egg
1 C Full Fat Mozzarella Cheese
2 T Parmesan Cheese
¾ t Salt
½ t Pepper
2 T Parmesan Cheese (Yes More)
Drizzle
1½ C Heavy Cream
2 t Chicken Base
½ C Chopped Basil
Filling
Preheat oven to 325°.
Cut zucchini in half and scoop out center with a spoon. Do not cut off either end.
Barely brown ground beef & sausage add oregano & fennel and put in medium bowl.
Saute mushrooms & onions in left over fat.
Add everything down to last Parmesan cheese and mix well.
Fill boats and put in large glass baking pan.
Top with last 2 T Parmesan cheese.
Cover and bake 30-40 minutes or until zucchini is tender but not overcooked.
Drizzle
Heat heavy cream chicken base and basil and simmer until slightly thickened about 3-4 minutes.
Drizzle and float your boats.
6 Servings
427 Calories, 16.6g Protein, 37.4g Fat, 6.1g Carbs, 1.0g Fiber, 5.1g Net Carbs
Notes
Bet you didn't know this but yes, unbelievably you can eat the stems of the zucchini for one more luscious bite.
Low Carb Scams https://low-carb-scams.com/