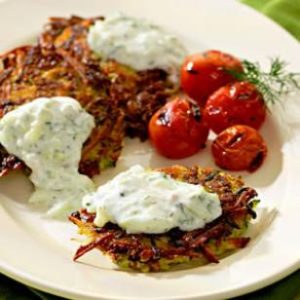 Low Carb Zucchini Cheese Latkes. If you don't have much time for that dinner vegetable then these are for you. They are so good and so, so easy to make at the last minute and…they go with about anything.
For a list of products you may not be familiar with and used on this site, please read Low Carb Pantry Essentials. I am NOT sponsor-compensated for recommending a product that I use*** And here, in one tidy package, are over 550 Keto~Paleo~Low Carb~Diabetic Chef's Recipes
As I am a Type II diabetic, all recipes on this website are low carb and diabetic friendly.
Zucchini & Cheese Latkes
2015-06-21 07:48:30
Ingredients
2 C Finely Shredded Zucchini
2 T Finely Minced Green Onions
2 T Grated Onion
1 Beaten Egg
¼ C Parmesan Cheese
¼ t Crushed Garlic
¼ C Sour Cream
¼ t Dill
2 T Butter
2 T Olive Oil (I Use Tallow-Heavenly)
NO SALT Until After Cooking
Freshly Ground Pepper
Instructions
Mix first 6 ingredients & heat oil.
If you don't have a fine grater for the zucchini you can process or chop it a bit after grating. The idea is to not have long strands.
Using your trusty #30 2 T scoop put 4 blobs in oil and gently pat down.
Fry until crispy brown, turn, & repeat.
NOW you can salt them.
Mix sour cream & dill, and garnish each latke.
4 Servings
201 Calories, 5.0g Protein, 18.6g Fat, 3.5g Carbs, .8g Fiber, 2.7g Net Carbs
Notes
The Parmesan cheese already has salt in it and too much salt will make the zucchini "weep" as you are waiting to do your second 4 latkes. Once they are cooked you are safe to salt as necessary.
Low Carb Scams https://low-carb-scams.com/