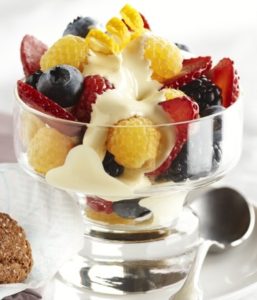 Low Carb Zabaglione. The Italians call it Zabaglione and the French call it sabayon and me? I just call it fantastic and it couldn't be much easier to make. It is traditionally served in a wine goblet, martini glass, parfaits, or souffle cups but of course may be served in any pretty glass or bowl. Um me? I will eat it served in just about any container. See Notes for the other many ways to use this sauce.
For a list of products you may not be familiar with and used on this site, please read Low Carb Pantry Essentials. I am NOT sponsor-compensated for recommending a product that I use*** And here, in one tidy package, are over 550 Keto~Paleo~Low Carb~Diabetic Chef's Recipes
As I am a Type II diabetic, all recipes on this website are low carb and diabetic friendly.
Zabaglione/Mixed Berries
2015-04-25 07:42:53
Ingredients
5 Egg Yolks
⅓ C Just Like Sugar***
¼ C Sweet Marsala
1 C Heavy Cream Whipped
1 t Vanilla
1 C Strawberries
1 C Raspberries
1 C Blackberries
Instructions
Put egg yolks, Just Like Sugar, & Marsala into large metal mixing bowl and begin beating.
Put bowl on low heat and continue whipping constantly. In the beginning you will have very large bubbles, then smaller ones.
As it begins to thicken it should pretty much have no bubbles.
Take off heat immediately and continue beating 3-5 minutes until cool enough not to scramble the yolks.
Whip the cream and add vanilla.
Fold whipped cream into slightly thickened sauce making sure to get it blended thoroughly.
OK, now for the assembly and there are several ways to do this. The easiest way is to dump all your fruit into the zabaglione, mix, & serve. To make it a bit fancier you can layer it a glass of some sort and the fanciest way is to layer each individual fruit with sauce over each layer.
8 Servings
185 Calories, 2.1g Protein, 15.1g Fat, 5.5g Carbs, 2.2g Fiber, 3.3g Net Carbs
Notes
You may easily substitute Grand Marnier (orange) or Amaretto (almond) for the Marsala.
It is also good served warm and as its own stand alone custard.
Though I have never done it I hear tell this concoction can be frozen and has a texture similar to gelato. No ice cream maker required.
Or how about this-chocolate ganache either mixed or swirled in and frozen? Seems the possibilities are almost endless.
If by chance you have leftover sauce? My advice is...have it again.
Low Carb Scams https://low-carb-scams.com/