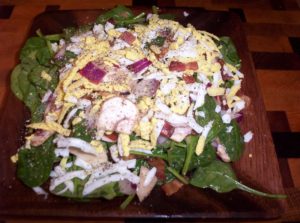 Low Carb Wilted Spinach Salad. This is a pretty standard Wilted Spinach Salad recipe and sometimes we just need to be reminded of the many different salad choices we have. This couldn't be too much easier. I think for a bit of crunchy goodness, this would be enhanced with toasted sliced almonds and I have added them into the recipe. As you can see I grated my egg. More SURFACE AREA , more taste.
For a list of products you may not be familiar with and used on this site, please read Low Carb Pantry Essentials. I am NOT sponsor-compensated for recommending a product that I use*** And here, in one tidy package, are over 550 Keto~Paleo~Low Carb~Diabetic Chef's Recipes
As I am a Type II diabetic, all recipes on this website are low carb and diabetic friendly.
Wilted Spinach Salad
2015-06-19 06:32:15
Ingredients
10 Oz Clamshell Baby Spinach
½ Lb Crispy Cooked Chopped Bacon
3 Chopped Hard Boiled Eggs (As You See, I Grated My Eggs)
½ C Thinly Sliced Red Onion
6 Thinly Sliced Button Or Crimini Mushrooms
¼ C Toasted Almonds
¼ C Red Wine Vinegar
1½ t Dijon Mustard
1 t Just Like Sugar
½ t Salt
Lots Freshly Ground Pepper
Instructions
Toast the almonds.
Cook & chop bacon reserving ¼ cup fat.
Hard boil eggs and rough chop.
Mix mustard and Just Like Sugar into heated bacon fat & add vinegar.
In large bowl mix spinach, eggs, red onion, and mushrooms.
Sprinkle with salt.
Add dressing and mix.
Plate and garnish with almonds.
Serve with lots of fresh ground pepper.
6 Servings
275 Calories, 10.0g Protein, 24.1g Fat, 4.4g Carbs, 2.0g Fiber, 2.2g Net Carb
Notes
Bacon fat is included in the nutritionals.
Low Carb Scams https://low-carb-scams.com/