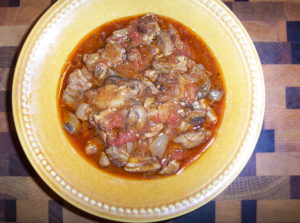 Low Carb Veal Stew. When I was a kid (many eons ago) veal stew was a staple in our house. So was breaded veal and so were veal sweetbreads. And then…the veal Nazis came along and decided we should not be allowed to eat baby beef. We don't seem to have any problems with lamb but keep your hands off veal. So now of course veal is prohibitively expensive. If you can't afford veal then of course beef works nearly as well. Awhile ago I bought a whole prime ribs of veal, had them Frenched and cut into chops and ended up with a lot of extra between the bones meat and this is the recipe I came up with to use that veal. It is not a traditional stew as there are no carrots, potatoes or peas (all sugary starches) and it is scrumptious never-the-less. You know why?…because of the wine and…gobs of mushrooms. I liken it to Beef Bourguignon which is exactly what it tastes like. Low carb veal stew…to your health.

For a list of products you may not be familiar with and used on this site, please read Low Carb Pantry Essentials. I am NOT sponsor-compensated for recommending a product that I use*** And here, in one tidy package, are over 550 Keto~Paleo~Low Carb~Diabetic Chef's Recipes
As I am a Type II diabetic, all recipes on this website are low carb and diabetic friendly.
Veal Or Beef Stew
2016-05-01 14:46:28
Ingredients
2½-3 Pounds ¾"to 1" Cubed Veal (Beef) Meat
½ Pound Cut Bacon ¾" Pieces (Pancetta Works As Well)
1 Pound Quartered Medium Mushrooms
3 T Olive Oil (Divided)
½ Large Onion Medium Diced
1 C Good Red Wine (I Use The Wine I Drink)
3 T Tomato Paste
1 Cn Diced Tomatoes
½ C Water
1 T Crushed Garlic
2 t Chicken Base
1½ t Dried Thyme
½ t Pepper Or To Taste
Instructions
Cook bacon until just barely beginning to crisp. Remove from pan reserving the fat.
Add 2 T olive oil & sauté mushrooms. Remove from pan reserving the fat.
Add onions and sauté. Remove from pan reserving any leftover fat.
Add remaining 1 T olive oil and quickly sear ½ of the meat. Remove from pan. Repeat.
Add tomato paste, browning slightly. Add wine and scrap any cruddy buttons from bottom of pan.
Add diced tomatoes, water, garlic, thyme, chicken base & pepper.
Add back rest of ingredients, cover and simmer for about 1½ hours or until tender.
Serve in a bowl.
6 Servings
534 Calories, 39.5g Protein, 41.5g Fat, 10.7g Carbs, 2.2g Fiber, 8.5g Net Carbs
Notes
As I said beef may be subbed for veal. The idea of this recipe is that you do not need lots of stew ingredients to make a delicious stew.
This of course goes well over mashed cauliflower or any other number of low carb veggies.
Low Carb Scams https://low-carb-scams.com/