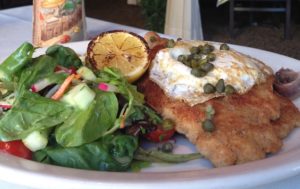 Low Carb Veal Pork Chicken Schnitzel ala Holstein. As we diabetics and low carbers know, wheat flour is an absolute no no, however, we have other tricks to use and one of them is peanut flour. Though peanuts have their own distinct flavor, peanut flour, when used as a meat coating, seems to lose its flavor and imparts a very pleasing beautiful golden bronze color to any schnitzel. I also use it to coat Fried Chicken & Boneless Chicken Thighs/Thai Peanut Sauce.
For a list of products you may not be familiar with and used on this site, please read Low Carb Pantry Essentials. I am NOT sponsor-compensated for recommending a product that I use*** And here, in one tidy package, are over 550 Keto~Paleo~Low Carb~Diabetic Chef's Recipes
As I am a Type II diabetic, all recipes on this website are low carb and diabetic friendly.
Veal/Pork/Chicken Schnitzel ala Holstein
2013-09-23 07:44:27
Ingredients
½ C Peanut Flour*** (I use Byrd Mill 28% Light)
1½ Lb Chicken, Veal or Pork Cutlets (Pounded Thin)
2 T Butter
2 T Olive Oil
¼ C Capers
¼ C Lemon Juice
2 T Butter (Yeah, More Butter)
2 T Butter (Yeah, Even More Butter)
4 Eggs
Salt & Pepper
Instructions
Lightly salt and pepper each piece of meat and dredge in peanut flour.
Put butter and olive oil in large sauté pan and when butter just starts to turn color add cutlets. When cooked, take out of pan and plate. Return pan to lowered heat. Add lemon juice and capers. Add 2 T butter and swirl. This will thicken your sauce.
In separate pan add ½ T butter and fry each egg over easy and place over cutlets.
Spoon sauce over each egg topped cutlet.
4 Servings
843 Calories, 82.9 Protein, 54.3g Fat 5.6g Carbs, 2.1g Fiber, 3.5g Net Carbs
Notes
I used chicken to calculate figures and would only change slightly if using another meat.
If you know your butcher, ask him to pound and tenderize for you.
This dinner goes well with asparagus and hollandaise.
Ground pork rinds can be used as substitute breading for peanut flour. I have used both and both are good. Rinds will tend to make your meat crispier.
Low Carb Scams https://low-carb-scams.com/