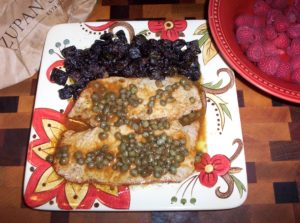 Low Carb Veal Piccata is not so unlike a Veal/Pork/Chicken/Schnitzel ala Holstein except the picatta is not dredged in peanut flour or served with an egg on top. Somewhere on this site I said my last veal supply had dried up and to their credit Zupans, here in Portland does carry it so now I can get it as needed and thanks you Zupan's Market. Veal is so very expensive and I have never understood why as it didn't used to be. I know, it is gotten from (baby male) milk fed calves and a lot of people, for some reason, find this off-putting. We slaughter all kinds of animals, including baby lambs, and people don't seem to have a problem with that so why veal? I don't know the answer but I do know it is divine eating. The 1st picture is served with a Vietnamese Shrimp Salad & Fish Sauce Dressing and the 2nd picture shown was being served with Caramelized Zucchini and it's easy to see that I love capers. With all this said, you can also use chicken. We all know chicken picatta is good-it's just not as good as veal.
For a list of products you may not be familiar with and used on this site, please read Low Carb Pantry Essentials. I am NOT sponsor-compensated for recommending a product that I use*** And here, in one tidy package, are over 550 Keto~Paleo~Low Carb~Diabetic Chef's Recipes
As I am a Type II diabetic, all recipes on this website are low carb and diabetic friendly.
Veal Piccata
2015-12-12 13:16:07
Ingredients
1 Lb Scalloped Veal Medallions (About 8 If Possible)
6 T Butter (Divided)
2 T Olive Oil
¼ C White Wine
¼ C Lemon Juice
¼ C Water
½ t Chicken Base
4 T Capers
Pepper Only If Necessary
Instructions
Add olive oil & 4 T butter to hot saute pan and get your butter browning.
Add veal medallions, sear quickly and plate.
Keeping pan hot add wine, lemon juice, capers, & water and reduce about one third.
Remove pan from heat and add remaining butter 1 T at a time while swirling pan-this will thicken the sauce.
Top medallions with sauce.
4 Servings
437 Calories, 32.2g Protein, 33.4g Fat, 2.0g Carbs, .3g Fiber, 1.7g Net Carbs
Notes
Medallions of veal do not take long to sear and if overdone will be tough so don't overdo them.
Low Carb Scams https://low-carb-scams.com/