Low Carb Tzatziki. The word 'Tzatziki' refers to a sauce that often is used in the preparation of the Greek meat dishes 'gyros' Pulled Pork Gyros and 'souvlaki'. It's made of strained yogurt from the milk of goats or sheep, salt, garlic, and cucumbers. Dill, lemon juice, and pepper are usually added and then sometimes, mint or parsley. Because of the presence of cucumbers, the sauce is often called cucumber sauce in English-speaking countries. Within Greece, the sauce also is called 'tarator', from the Sephardic Jewish word. The Greek word actually comes from the Turkish word 'cacik', which means 'chutney' and the sauce is used in the cuisines of countries other than Greece. Indeed, its use ranges from Bulgaria and Macedonia; to the Caucasus; and into Afghanistan, Iran, and Iraq. This info is taken from Wiki.answers…and who knew?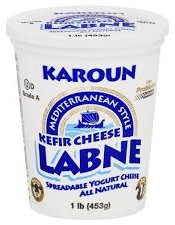 Labneh, Lebni, or Labne is a soft yogurt cheese. It doesn't matter how you say it or how you spell it, it, what really matters is that it is good and it is that-very good. In the Middle East Labneh is traditionally served drizzled with olive oil, maybe some lemon juice, accompanied by Kalamata olives, and is most definitely not sweetened. Many times the dish is quite artfully presented. And…Chobani?…IS NOT strained Greek yogurt by any stretch of the imagination. Karoun is the brand I use or…you can make my recipe for Real Greek Yogurt
For a list of products you may not be familiar with and used on this site, please read Low Carb Pantry Essentials. I am NOT sponsor-compensated for recommending a product that I use*** And here, in one tidy package, are over 550 Keto~Paleo~Low Carb~Diabetic Chef's Recipes
As I am a Type II diabetic, all recipes on this website are low carb and diabetic friendly.
Tzatziki
2014-07-24 10:15:54
Ingredients
1 C Strained Greek Yogurt (Labneh-Lebna-Labne)
1 C Diced Cucumber (About ½ One Large)
¾ t Dried Dill
1½ T Lemon Juice
1½ t Crushed Garlic
½ t Salt
¼ t Pepper
Instructions
Peel, cut cucumber in half, scoop out the seeds, roughly chop, and process until you have very tiny pieces kind of a sludge, but not pureed.
Ditch the cucumber juice by squeezing as much out as you can then combine all ingredients in a medium bowl, taste, and correct seasoning.
You may serve this immediately but it is better after being in the refrigerator for a day. It should easily last 4-5 days-if it lasts at all after you get into it.
8 Servings
42 Calories, 1.1g Protein, 3.5g Fat 1.7g Carbs, 0.1g Fiber, 1.6g Net Carbs
Notes
Karoun is the only brand I use unless I make my own and the nutritionals reflect this yogurt.
If you opt to use regular ole Greek yogurt and not Labne it will turn watery from the whey escaping the yogurt. No problem, it is higher carb and please, just be aware of it.
This can have 1 t of mint added if wanted and it's what you see sprinkled on the top.
Serve with red, orange, or yellow pepper chips, cucumber coins, along with snow peas to keep it low carb.
This is also very good served to the side with a sautéed chicken breast or a jillion other foods.
Recipe may easily be doubled.
Low Carb Scams https://low-carb-scams.com/