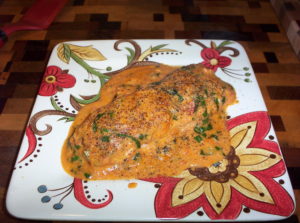 This Low Carb Tomato Basil Cream is not an original recipe by anyone's stretch of the imagination but it can be so good on lots of things I thought I would just list it as a sauce instead of with any particular food. In the picture there is a gorgeous hunk of fresh Pacific Coast Coho salmon underneath but you can use this with spaghetti squash, shrimp, and other types of fish as well.
For a list of products you may not be familiar with and used on this site, please read Low Carb Pantry Essentials. I am NOT sponsor-compensated for recommending a product that I use*** And here, in one tidy package, are over 550 Keto~Paleo~Low Carb~Diabetic Chef's Recipes
As I am a Type II diabetic, all recipes on this website are low carb and diabetic friendly.
Tomato Basil Cream
2016-08-27 10:08:12
Ingredients
1½ C Heavy Cream
1½ C Rough Chopped Roma Tomatoes (4-6 Depending On Size)
½ C Freshly Chopped Basil Leaves
2 t Crushed Garlic (+ More To Taste
2 t Chicken Base (+ More To Taste)
Freshly Ground Pepper
Instructions
Put cream and tomatoes in proper size bowl and using a stick blender blend until just thick. If you don't have a stick blender then use your food processor.
Pour into sauce pan, add basil, garlic and chicken base, and heat.
Spoon over food to be sauced.
Add freshly ground pepper.
6 Servings
237 Calories, 22.9g Fat, 2.2g Protein, 7.6g Carbs, 1.0g Fiber, 6.6g Net Carbs
Notes
Certainly may add lemon if serving with seafood.
Low Carb Scams https://low-carb-scams.com/