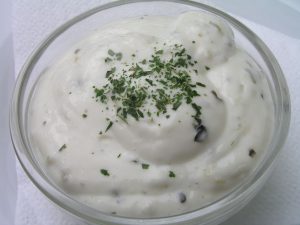 Low Carb Tartar Sauce is such a subjective taste for everyone. This is a tartar sauce of an "original" recipe used in a seafood house I once worked in and I have always loved it. I think the secret is once again the grated onion. I have made it low carb with the addition of Sugar Free Mt. Olive Sweet Relish which can be found on the Netrition website
The original recipe started with 4 gallons of mayo so this is a real cut down.
For a list of products you may not be familiar with and used on this site, please read Low Carb Pantry Essentials. I am NOT sponsor-compensated for recommending a product that I use*** And here, in one tidy package, are over 550 Keto~Paleo~Low Carb~Diabetic Chef's Recipes
As I am a Type II diabetic, all recipes on this website are low carb and diabetic friendly.
Tartar Sauce
2013-08-19 15:14:55
Ingredients
1 C Mayonnaise
½ C Low Carb Sweet Relish***
2 T Grated Onion
2 T Lemon Juice
1 T Worcestershire Sauce
Directions
Mix all ingredients and refrigerate.
12 Servings
122 Calories, .2g Protein, .7g Carbs, 0g Fiber, .7g Net Carbs
Low Carb Scams https://low-carb-scams.com/