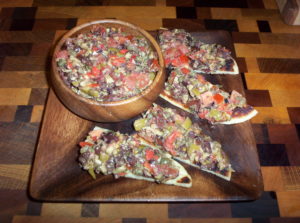 Low Carb Tapenade. If you like olives (and I do) a good tapenade can be addictive and I believe this will probably be the best tapenade you may ever eat. No cauliflower or other fillers. I serve this on Hazelnut Crackers, Sour Cream & Chive Crackers or with my low carb Naan Flat Bread (pictured) and your favorite low carb cracker will work. Low carb tapenade for… health.
For a list of products you may not be familiar with and used on this site, please read Low Carb Pantry Essentials. I am NOT sponsor-compensated for recommending a product that I use*** And here, in one tidy package, are over 550 Keto~Paleo~Low Carb~Diabetic Chef's Recipes
As I am a Type II diabetic, all recipes on this website are low carb and diabetic friendly.
Tapenade
2013-08-31 11:09:23
Ingredients
½ C Kalamata Olives, Pitted and Chopped
½ C Green Olives, Pitted and Chopped
½ C Roasted Red Pepper, Chopped
½ C Tomatoes, Small Dice
¼ C Capers
1 t Minced Garlic
1 T Anchovy Paste
½ t Dried Basil
¼ t Dried Thyme
¼ t Dried Oregano
2 T Olive Oil
Directions
Mix all ingredients.
Can be eaten immediately but best if refrigerated several hours.
Serving Size 2 T
Servings 20
20 Calories, .8g Protein, 1.5g Fat, .8g Carbs, .4 Fiber, .4 Net Carbs
Notes
Try adding a splash of balsamic vinegar.
Low Carb Scams https://low-carb-scams.com/