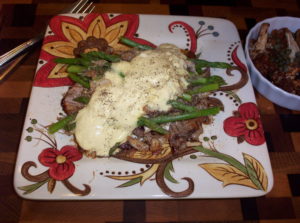 Low Carb Steak Oscar is an elegant dish that used to be served in the finest restaurants all over the country and for some unknown reason it is now difficult to find. The reason can't be because it isn't good because it is fabulous. Perhaps the reason lies in the fact that we have had an explosion of talented people entering the food scene nationwide with so many new and eclectic foods that it has just kinda dropped off the radar. At any rate it is still a topnotch dish in my book and this is my rendition. Medallions of veal may be used in place of steak and good luck finding veal anymore. My last bastion to buy veal dried up awhile ago. This is a very easy, uncomplicated recipe to make and you will need a recipe of Sauce Béarnaise to finish it. Since crab meat is so very expensive I would not suggest lump crab as it is the most expensive, and probably not canned crab as it has been cooked into oblivion. If you are going to serve this, best to bite the bullet and buy good quality flaked crab meat. If you are on a budget (and who isn't) try imitation crab and who knows, it may actually be good but beware imitation crab is full of carbs. This low carb steak oscar is a restaurant quality, dinner for guests meal.
For a list of products you may not be familiar with and used on this site, please read Low Carb Pantry Essentials. I am NOT sponsor-compensated for recommending a product that I use*** And here, in one tidy package, are over 550 Keto~Paleo~Low Carb~Diabetic Chef's Recipes
As I am a Type II diabetic, all recipes on this website are low carb and diabetic friendly.
Steak Oscar
2015-01-05 11:24:53
Ingredients
1 Recipe Sauce Béarnaise
4 Good Quality Steaks 6-8 Oz Each (New York Strip Shown)
12 Fresh Asparagus Spears
8 Oz Crab Meat
Instructions
Steam or grill asparagus spears.
Cook steaks to desired doneness. (Rare is best)
Very gently heat crab meat.
Plate steak, top with crab, arrange asparagus, and nap with béarnaise.
4 Servings
541 Calories, 77.0g Protein, 24.2g Fat, 3.7g Carbs, 1.0g Fiber, 2.7g Net Carbs
Low Carb Scams https://low-carb-scams.com/