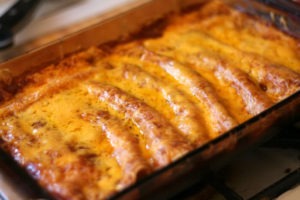 Low Carb Spanish Rice. Do you miss rice? Well, you are not alone and this low carb Spanish Rice may just do it for you. It is an easy recipe and the absolutely perfect accompaniment to Chicken Enchiladas. Complete meal & done.
For a list of products you may not be familiar with and used on this site, please read Low Carb Pantry Essentials. I am NOT sponsor-compensated for recommending a product that I use*** And here, in one tidy package, are over 550 Keto~Paleo~Low Carb~Diabetic Chef's Recipes
As I am a Type II diabetic, all recipes on this website are low carb and diabetic friendly.
Spanish Rice
2014-12-06 10:20:04
Ingredients
4 C Riced Cauliflower
4 T Butter Divided (Lard Is Better)
½ Finely Diced Medium Onion
1 Finely Chopped Small Jalapeno Pepper* (Optional But Good)
½ Can Small Dice Tomatoes (I Freeze The Other ½)
1 t Chicken Base
¼ t Cumin
¼ t Chili Powder
¼ t Crushed Garlic
½ C Cheddar Cheese
¼ C Sour Cream
Chopped Cilantro For Garnish (Optional)
Instructions
Sauté riced cauliflower in 3 T butter and if you have lard it will taste even better. Set aside.
Sauté onions and jalapeno in 1 T butter.
Add back cauliflower.
Add tomatoes, chicken base, cumin, chili powder & garlic and simmer until most (but not all) of the moisture has been soaked in.
Plate and quickly sprinkle cheese to melt.
Add dollop sour cream.
4 Servings
230 Calories, 6.8g Protein, 18.1g Fat, 10.0g Carbs, 3.4g Fiber, 6.6g Net Carbs
Notes
Don't worry if you have leftovers. Just reheat, add a couple eggs on top and eat for breakfast.
I use pickled jalapenos*-that way I don't have to touch them. This is what I do to cut them. Open the jar and stick scissors in and just keep cutting until you get to the desired size.
Low Carb Scams https://low-carb-scams.com/