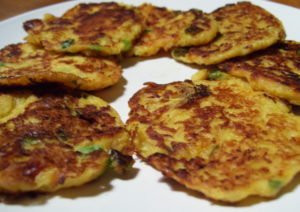 Low Carb Spaghetti Squash Latkes With Lemon Sage Butter. I made a Traditional Spaghetti Sauce with some spaghetti squash last night for dinner and because it was a pretty good sized squash I had some left. These Spaghetti Squash Latkes are just one of the recipes I make with leftover spaghetti squash and there are several of them. These are very easily made as the leftover squash is already in the fridge. Here is another recipe that uses 2 cups. Spaghetti Squash Pastitsio.
For a list of products you may not be familiar with and used on this site, please read Low Carb Pantry Essentials. I am NOT sponsor-compensated for recommending a product that I use*** And here, in one tidy package, are over 550 Keto~Paleo~Low Carb~Diabetic Chef's Recipes
As I am a Type II diabetic, all recipes on this website are low carb and diabetic friendly.
Spaghetti Squash Latkes/Lemon Sage Butter
2015-06-19 12:10:43
Ingredients
2 C Cooked Spaghetti Squash
2 T Finely Minced Green Onions
2 T Grated Onion
1 Beaten Egg
4 T Parmesan Cheese
¼ t Pepper
3 T Butter (Divided)
3 T Olive(Divided)
2 T Lemon Juice
¼ t Ground Sage
¼ C Sour Cream
2 T Minced Green Onions To Garnish
Instructions
Mix first 6 ingredients.
Heat 2 t oil+2 t butter.
Using your trusty #30 2 T scoop put 4 blobs into fat and gently pat down.
Fry until crispy, golden brown, turn, & repeat.
To any residual fat add the rest of the butter & oil and heat to browning.
Add lemon juice, sage and swirl pan to mix.
Plate latkes, top with small dollop sour cream & green onions and drizzle sage butter over all.
4 Servings
261 Calories, 4.9g Protein, 23.6g Fat 7.2g Carbs, 1.3g Fiber, 5.9g Net Carbs
Notes
Serve 2 latkes per person.
Low Carb Scams https://low-carb-scams.com/