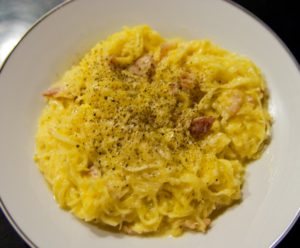 Low Carb Spaghetti Squash Carbonara. This is about as easy a recipe as I know. There are two ways to cut a spaghetti squash and it depends what you want to do with it. If you cut it lengthwise you will get rather short strands and if you cut it across the center the strands tend to be much longer as they wrap around & around ending up more like real spaghetti. Please see Spaghetti Squash 101. For this dish I cut it across the center for the longer strands where as for Spaghetti Squash Pastitsio I cut it lengthwise for short strands. The fresher your squash the less you need to cook it. Don't overcook as it will turn to mush and you will have to make a squash soup with it. Trust me, I have done it.
For a list of products you may not be familiar with and used on this site, please read Low Carb Pantry Essentials. I am NOT sponsor-compensated for recommending a product that I use*** And here, in one tidy package, are over 550 Keto~Paleo~Low Carb~Diabetic Chef's Recipes
As I am a Type II diabetic, all recipes on this website are low carb and diabetic friendly.
Spaghetti Squash Carbonara
2014-11-10 08:53:42
Ingredients
6 C Cooked Spaghetti Squash (About 1 Medium Squash)
2 T Olive Oil
6 Oz ¼" Cubed Pancetta (Bacon Works But Is Not Nearly As Good)
4 t Crushed Garlic
2 Eggs Room Temperature
1 C Parmesan Cheese
¼ C Additional Parmesan Cheese
Fresh Cracked Pepper
½ C Water (If Not Using Cream)
½ C Heavy Cream If Wanted (Not Authentic But Never-The-Less Very Tasty)
½ t Chicken Base
Salt Only If Needed
Instructions
Cut squash, scoop out seeds, turn upside down in 1 inch of water and bake at 375° about 1 hour or until done.
Remove from water and allow to cool until you can handle it.
With a fork and a gentle hand, start at the top coming down with the tines & scrape the spaghetti.
Put into a large bowl. To get the remaining strands you will probably need to use a spoon.
Beat eggs & add 1 C Parmesan cheese.
In large pan, sauté pancetta in olive oil until just a bit crispy. Do not over cook it. Add garlic and cook 1 minute more or so.
Add water or heavy cream, pepper & heat. Add squash & heat thoroughly.
Take pan off heat and toss in egg/Parmesan mixture stirring well. You do not want to scramble the eggs.
Plate and serve with additional Parmesan.
4 Servings
451 Calories, 26.7g Protein, 30.9g Fat, 16.4g Carbs, 3.3g Fiber, 13.1g Net Carbs
With Heavy Cream
554 Calories, 27.3g Protein, 41.8g Fat, 17.2g Carbs, 3.3g Fiber, 13.9g Net Carbs
Notes
Real authenticity to this dish would be guanciale which is the bacon made from the jowls of a pig. I have had it and it is fabulous but hey, you will probably never find it and don't fret. It is what the Italians mostly use but pancetta is terrific.
Buon Appetito Have a good meal.
Low Carb Scams https://low-carb-scams.com/