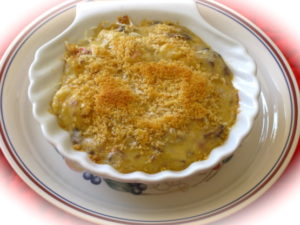 Low Carb Shrimp & Crab Thermidor. At one time Lobster Thermidor was all the rage in fancy dancy expensive restaurants around the country and for some reason it has mostly fallen out of favor-probably because of the costs of the ingredients. But now…you can make it yourself and save tons of $$$. Yes, shrimp and crab are still expensive but not nearly what it would be in your favorite local eatery.
So, make this a special meal on a Sunday and of course you can dazzle dinner guests with it.
As I am a Type II diabetic, all recipes on this website are low carb and diabetic friendly.
Shrimp & Crab Thermidor
2015-05-04 13:25:59
Ingredients
8 Large Shrimp Cut Into 4 Chunks Each
½ Lb Lump Crabmeat
4 Tbsp Unsalted Butter
¼ C Thinly Sliced Shallots
¼ C Chopped Sautéed Mushrooms
¼ C Thinly Sliced Green Onions (For Color If Wanted)
¼ Cup Sherry (Or Cognac)
1 Cup Heavy Cream
2 tsp Dijon Mustard
1 t Chicken Base
½ t Dried Tarragon
⅛ t Cayenne Pepper
Pinch Nutmeg
1 Bay Leaf
½ C Shredded Gruyere Cheese
¼ C Parmesan
Pepper
Instructions
Preheat oven to 350°
In 2 T butter over medium high heat quickly brown shrimp chunks. Set aside.
In 1 T butter sauté mushrooms. Set aside.
Turn heat to medium low and in remaining butter sauté shallots until translucent.
Add sherry & simmer about a minute.
Add heavy cream, chicken base, mustard, bay leaf, spices, & reduce slightly.
Remove bay leaf, & add back shrimp, mushrooms, and then crabmeat.
Put into a ceramic dish or individual casserole boats or dishes, sprinkle with shredded gruyere and top with Parmesan.
Bake 10-12 minutes or until cheese is melted and if you like crusty cheese you may broil until browning begins.
Serve over lots of anything green. Buttered spinach or kale are both great. It is also often served with green beans.
4 Servings
440 Calories, 14.4g Protein, 6.0g Carbs, 0g Fiber, 6.0 g Net Carbs
Low Carb Scams https://low-carb-scams.com/