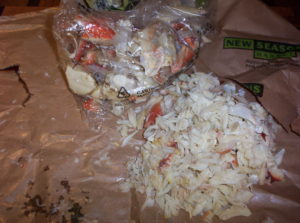 Low Carb Shrimp-Crab-Salad-Louis Dressing. I don't know if a Shrimp or Crab Louis Salad is truly the "king" of salads but it has to stand as right up there at the top. The dressing is fabulous on a Rueben sandwich (if you can eat one) and no, Louis Dressing is NOT 1,000 Island Dressing.
I do not use much iceberg lettuce (2 recipes on the site) but there are times when it is the only lettuce you can use. If prepped properly it is about the crispiest lettuce that I know of and the directions are below for exactly how to do it. I don't always advocate chopping lettuce with a knife because it causes the lettuce to "rust" quickly (it is better torn) but in this case it will be used relatively quickly so for convenience I do use a knife. The technique works with Romaine as well.
For a list of products you may not be familiar with and used on this site, please read Low Carb Pantry Essentials. I am NOT sponsor-compensated for recommending a product that I use*** And here, in one tidy package, are over 550 Keto~Paleo~Low Carb~Diabetic Chef's Recipes
As I am a Type II diabetic, all recipes on this website are low carb and diabetic friendly.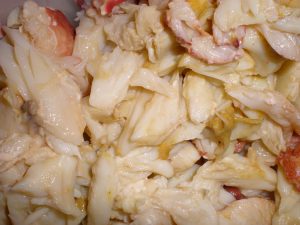 Shrimp/Crab/Louis Dressing
2014-05-23 09:52:47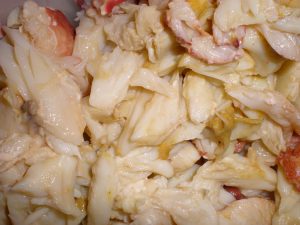 Ingredients
½ C Mayonnaise
2 T Olive Oil
2 T Chili Sauce
2 T Sugar Free Ketchup
2 T Fresh Lemon Juice
2 T Finely Sliced Green Onion Tops
½ t Dijon Mustard
¼ t Onion Powder
¼ t Garlic Powder
1 t Worcestershire Sauce
8 C Crisp & Cold Chopped Iceberg Lettuce
1 C Tomato Small Dice
2 Chopped Hard Boiled Eggs
½ Lb Bay Shrimp, Crab, Or Combo
Cracked Pepper
Instructions
DRESSING
Beat all ingredients, put in a 1 cup jar, and refrigerate.
SALAD GREENS
Take off the outer leaves of the head (if badly wilted) and core it. Cut in half and then cut to desires piece sizes-optimally about 1". Put into sink of cold water and swish it around. Drain the sink, shake off the excess water, put is a bowl, cover with film, and put in the fridge for at least an hour. This will be the crispiest lettuce ever and it works very well for most lettuce and no, you do not need ice. That crispy lettuce you get in a restaurant? Well, that's how they do it-by the tubful.
ASSEMBLY
Put down lettuce, top with egg, then tomatoes, then sauce, then cracked pepper, and lastly sprinkle on the shrimp. Serve with a side wedge of lemon.
4 Servings: Dressing
260 Calories, .3g Protein, 27.2g Fat, 3.3g Carbs, 0g Fiber, 3.3g Net Carbs
4 Servings: Salad & Dressing
379 Calories, 16.6g Protein, 30.9g Fat, 8.6g Carbs, 1.9g Fiber, 6.9g Net Carbs
Notes
Good Grief, this is good and is easily enhanced with asparagus, cucumbers or...
Low Carb Scams https://low-carb-scams.com/