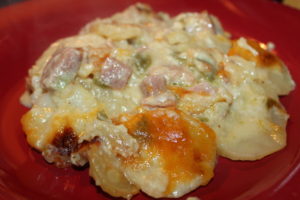 This Low Carb Scalloped Ham And Celery Root recipe is a take on one of my old (cheap) college favorites. Back in the day and in my case the late 60's, one of the least expensive foods you could buy was potatoes. At the time potatoes were about .49 for a 10 lb. bag and ham was about .49 per lb. So if you think about it this recipe was a really inexpensive way to serve 4-6 hungry college students.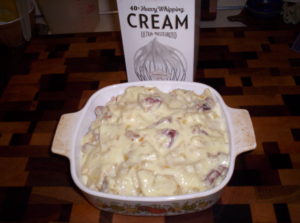 I have substituted celery root in place of the potatoes and used heavy cream in place of a roux made with flour and added milk. In my world, today, this tastes so much better and of course back then not many people had ever thought about thickening with heavy cream much less heard of it…and celery root?…celery what? The water injected crud that passes for ham today?..didn't exist. So get yourself a nice fat-rat celery root and above all good quality ham that has not been injected with some saltwater crapola.
I think this dish has lots less than ¼ the carbs that it does when made with potatoes. If you have a mandoline for slicing then I would suggest using it as celery root is very difficult to cut by hand and the mandoline will make short work of it. If you don't have one a great place to look, if you have one in your area, is a used restaurant supply house. In fact if you can get to a restaurant supply house be careful, as it is quite easy to go nuts in them. If you are going to invest in a mandoline I would suggest an adjustable bladed one as you can easily set the thickness of anything you wish to slice/cut. Yes, you can of course cut it by hand by cutting it half and laboriously use a chef's knife. One last way would be to use the slicing blade on your food processor and the only problem may be that your processor may cut it too thin or thick.
Update: Though I really like the flavor of celery root another very good vegetable to use is diakon radish. Just peel and slice thinly into rounds.
If you want to add ½ C green peas for color then go ahead and it is simply for color and absolutely not needed. My other name for peas is little sugar bombs.
For a list of products you may not be familiar with and used on this site, please read Low Carb Pantry Essentials. I am NOT sponsor-compensated for recommending a product that I use*** And here, in one tidy package, are over 550 Keto~Paleo~Low Carb~Diabetic Chef's Recipes
As I am a Type II diabetic, all recipes on this website are low carb and diabetic friendly.
Scalloped Ham And Celery Root
2017-01-28 11:07:38
Ingredients
1 Medium Celery Root Halved & Sliced About ⅛" Thick (About 1-1½ Lb Cleaned)
½ Lb Good Quality Diced Ham ½" Cubes (Or Whatever Shape You Want)
1 T Butter
½ Onion Small Dice
1½ C Heavy Cream (Remember I Use 40% Heavy Cream)
1½ t Dry Mustard Powder
2 t Chicken Base
½ t Pepper
2 C Grated Cheese (I Use Gruyere & Sometimes Mixed With Cheddar)
½ C Green Onion Finely Chopped (These Add Additional Color & Virtually No Carbohydrate)
2 T Parmesan Cheese (Optional)
Instructions
Put celery root in water to cover and cook until tender 10-12 minutes. I can't describe how tough these babies are to cut and how quickly they become tender. This is unknowable stuff. Put in large mixing bowl.
Preheat oven to 325°
Meanwhile sweat onions in 1½ t butter until tender and add to celery root.
Add remaining butter, increasing heat, sauté ham chunks & add to celery root.
Slowly heat heavy cream, add chicken base, mustard powder, pepper and reduce slightly.
Add cheese & green onions until cheese is just barely melty. Pour over celery root mixture and blend thoroughly.
Put into glass baking dish and top with Parmesan cheese.
Bake until bubbly and then if Parmesan cheese has not browned, broil for about a minute.
6 Servings
483 Calories, 19.2g Protein, 40.5g Fat, 4.5g Carbs, .6g Fiber, 3.9g Net Carbs
8 Servings
362 Calories, 14.4g Protein, 30.4g Fat, 3.4g Carbs, .4g Fiber, 3.0g Net Carbs
Low Carb Scams https://low-carb-scams.com/